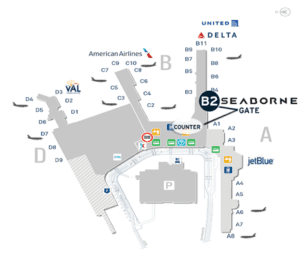 Seaborne Airlines is moving its main check-in counter and passenger boarding gates at San Juan's Luis Muñoz Marín International Airport to provide an enhanced customer experience for its domestic and international travelers.
Starting Sept. 4, Seaborne's main check-in counter will be located in Terminal B and the Arrival/Departure Gate will be located at Concourse B2A. Travelers will benefit from a new convenient location next to connecting airline partners, recently renovated terminal and new customs facilities in San Juan.
"We are thrilled to be making this move that will provide an enhanced travel experience for our customers," said Seaborne Vice President of Airports Susana Castro. "The new location is far more convenient for both nonstop and connecting flights on Seaborne and for those connecting to our code share and interline partners, including American Airlines, Delta Air Lines and JetBlue Airways. We appreciate the opportunity to upgrade our facilities at SJU and would like to thank our codeshare partners, Aerostar, and, of course, the hardworking men and women of Seaborne Airlines for making this possible."
Customers will benefit from the new central location that is more convenient and shorter walking distance between gates for travelers connecting to Seaborne's interline and codeshare partners as well as United, who are also located in or near Concourse B.
In addition, the airport's Terminal B completed a $130 million renovation in December 2014, which offers travelers a wide variety of restaurants and shopping options. Passengers arriving from international destinations will also experience the benefit of clearing immigrations and customs at the airport's recently inaugurated customs facilities located in Terminal A.
"With our recent acquisition by Silver Airways, there are many more exciting things on the horizon for Seaborne, our valued guests, our crew members and the Caribbean communities we serve," said Castro.
About Seaborne Airlines Seaborne has been operating in the Caribbean for over 25 years and is one of the largest regional carriers in the Caribbean with over 1,500 monthly flights. Seaborne serves San Juan's Luis Muñoz Marin International Airport, St. Thomas airport and seaplane base, St. Croix airport and seaplane base, Anguilla, Antigua, Tortola, Dominica, Saint Maarten, St. Kitts and Nevis with convenient online check-in and TSA pre-check offered in most destinations.
Seaborne was recently acquired by Silver Airways. The acquisition has brought together the two strongest, independent regional airlines with similar Saab 340B fleets, complementary route networks, and common codeshare and interline partners. With the upcoming deployment of Silver's recently announced new fleet of state-of-the-art ATR-600s across both networks, the combined airline will have an expanded range, allowing it to better serve passengers and markets.
The combined airline continues operating Silver Airways' route network in Florida, the Bahamas and beyond under the Silver Airways brand and Seaborne's route network throughout Puerto Rico, the Virgin Islands, and the Caribbean under the Seaborne name.