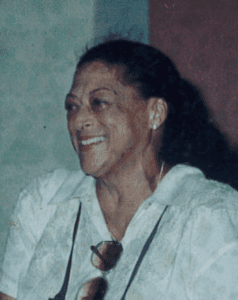 Carmen C. Schierloh died on Aug. 31 to be with her Savior.
She was preceded in death by her parents: Juan Centeno Sr. and America Garcia Gonzalez; and husband, Robert Schierloh.
She is survived by her daughter, Angelita C. Shierloh; adopted daughter, Kellisa Daniel; sisters: Juanita Centeno, Antonia C. Durante and Maria Grigg; brother, Juan Centeno; sister-in-law, Generosa Centeno; nieces: Melissa Centeno, Rosa Cintron, Carmen Rivera and Nannette Camacho; nephews: Miguel Robles, Herbert A. Grigg, John R. Grigg, Dr. Robert Centeno and Jeffrey Centeno; and great nieces: Elizabeth Gillium, Lissette Camacho, Janaya Grigg, Ariana Grigg and Joneera Grigg.
She is also survived by great nephews: Anthony Centeno P.A., Michael Lane, Aubrey Camacho Jr., John A. Camacho Esq., John Grigg Jr. and Eric Grigg; friends and family: Calvin and Kellisa Daniel, Marion Jones, Lucy Bough, Dale Jeffers, Irene Lang, Magarita Centeno and family, Rita Schuster and family, Shirley Highfield and family, Leatrice Percy, Ana and Maria Rexach, and Faye Linquist.
A viewing will take place at 9:30 a.m. followed by a funeral service at 10 a.m., Thursday, Sept. 13, at St. Ann's Catholic Church in Barren Spot. Interment will be at Kingshill Cemetery.