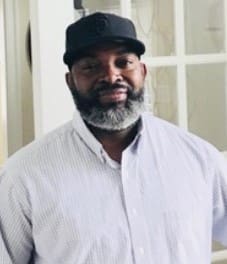 Rudy M. Pigott died on Aug. 22.
He is survived by his mother, Arabella Pigott; father, Reginald Pigott Sr.; spouse, Angelina Crosby-Pigott; children: Ty'Enna, Ty'Anna, Rudy Jr and Joshua; father-in-law, David Crosby; mother-in-law, Roslyn Crosby; siblings: Caona Jarvis-Daniel, Ulric Jarvis, Alycia Jarvis, Sharon Jarvis and Reginald Pigott Jr.; aunts: Henrietta Francis-Joseph, Christophene Francis-Hughes, Margerette Francis-Rogers, Victoria Francis-Roberts, Enna Pigott, Neltruda O'Garro and Henrietta O'Garro,; and uncles: Wycliffe Francis, Alphanso Francis, David O'Garro, Withmier O'Garro Denis O'Garro and Jefferson O'Garro.
He is also survived by nieces and nephews: De'ala Xavier, Elizabeth Jarvis, Melyssa Proctor, Alanna-Symone Pigott, Thirza Daniel, Aaliyah Parsons, Kendall Gittens Pigott and Namaste Gittens-Pigott; great nieces and great nephews: Mi'khi Clarke, Hailey Clarke, Madison Clarke and Kelsey Edwards; sisters-in-law: Lisa Jarvis, Jennifer Gittens, Lisa Crosby-Demaso and Merlynda Crosby; brothers-in-law: Cyril Daniel Sr., Hector Crosby, Nigel Crosby and Gary Crosby; and cousins: Teddy Charles, Joan Wallace, Kathleen Williams, Terry Rogers, Florence Rogers, Veronie Rogers, Sharon Rogers, Jacintha Parsons, Jasmine Rogers, Yvonne Rogers, Lawson Joseph, Ian Joseph, Cheryl Roberts, Annette Roberts, Paulette Hobson.
Other cousins include Julie Roberts Sylvia Jeffers, Andrew Roberts, John Roberts, Patrice Rogers, Tanya Samuel, Ravi Samuel, Tamika Samuel, Marsha Samuel, Anekia Samuel, Marsha Revan, Zakiya Jacobs, Veneese Bradshaw, Davielle Rogers, Darielle Rogers, Deidra Rogers, Andre Rogers, Kemoy Joseph, Z'Phea Joseph, Dnair Joseph, Kenisha Wallace, Jose Rogers, Glenesia Roberts, Jeroy Roberts, Ashley Rogers, Andrea Rogers, Aryn Rogers, Samuel Roberts, Chantelle Roberts, Shirnetta Roberts, Emeiko Roberts, Tphany Roberts, Lauryn Roberts, Talyha Roberts-Hutchison, Lewis Hobson, Ebony Hobson, L'maiyah Roberts, Kai and Tre Roberts, Nakeeme Julian and Nadesha Julian; special friend, Randy Samuel; as well as other family members too numerous to mention.
There will be a viewing held at 10 a.m. and a funeral service at 11 a.m., Wednesday, Sept. 12, at Beeston Hill Wesleyan. Interment will follow at Kingshill Cemetery.