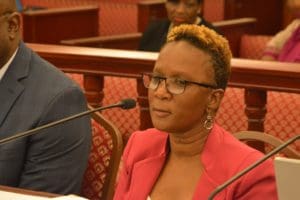 Gov. Kenneth E. Mapp met Thursday with members of his cabinet to help facilitate payments to non-profit organizations that provide vital services to the community.
Checks for these organizations will be processed early next week, according to Virgin Islands Human Services Commissioner Felecia Blyden.
"Funds are available; however, issues with documentation and invoices had delayed payments to several non-profits," she said. "These delays are not the fault of the organizations. and we deeply appreciate the valuable services these entities provide. We apologize for this inconvenience."
Non-profits impacted include Partners in Recovery, Bethlehem House, V.I. Center for Independent Living, Men's Coalition, My Brother's Workshop, St. John Community Foundation and Lutheran Social Services.
"We are submitting all the appropriate justification letters and invoices to assure that the Finance Department can issue checks on Tuesday," Blyden said. "I would like to thank Governor Mapp and Property and Procurement Commissioner Lloyd Bough for helping to move this process forward."
Blyden said any non-profit organization that receives disbursements through Human Services should follow up with her office if they have any questions regarding payment.