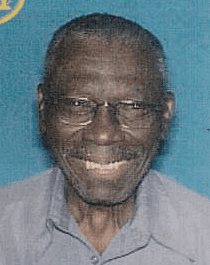 Dennis Alfredo Barnes Sr. of Sunny Isle Housing died on Aug. 22. He was 82 years old.
He is survived by his sons: Dennis Barnes Jr. and Derrick Barnes; grandchildren: Elijah Barnes, Makeda James, Diarra Barnes, Izaiah Barnes, Atiya Barnes and Innara Barnes; sisters: Roselyn Griffith, Iris Wilson, Jane and Beryl Bølling, Loreen and Cleophia Barnes; brother, Vernon Barnes; and nieces: Jacqueline, Yvette, Lynette, Lorraine and Linda Barnes, Karen Wilson Gilkes, Judith Phillip, Carmen Rios, Corine Lawless, Tiffany Bølling, Lettie, Mona and Alicia Barnes, Cecelia Barnes-Williams, Cindy Sergent-Rogers, Rosemond Creighton, Gwendolyn, Violet, Geralyn, Stephanie and Beverly Barnes.
He is also survived by nephews: Steve Wilson, Ronald Griffith, Craig Springett, Agustin Christian, James Semper, Roy O'Neal, Elenes Bølling Jr., Richard, Mark, Shawn and Glen Bølling, Anthony, Dexter, Lionel and Lloyd Barnes; great nieces: Nia Sylvester, Shanice and Isabel Wilson, Brie-Anna Parris, Sheniqua Rogers, Myia Khan, Nyisha Richards and Rosalinda Christian; great nephews: Nile James, Tajhi Parris, Che Wilson, Ali Khan, Marcel Rogers, Augustin Christian, Amari Lochart, Glen, Jason, Andre and Gregory Washington; daughters-in-law: Debbie Barnes and Kathy Ann Evans; and sister-in-law, Norma Barnes.
Other survivors include cousins: Arnold, Albert and Andrew Payne, Sarah and Joe Powell, Rodrick Moorehead, Hugo Moorehead, Carmen Mills, Cheryl and Trina Soto, Cecelia Barnes-Williams, Anna, Sherica, TeShanee, Cheryle, Judy, Josie, Tracy, Doreen, Therese, Carol, Roy, Thomas Jr., Daryl, Emmanuel, Randy, Marvin, Melton, Mikey and George Barnes; special friends: Mayra Maldonaldo, Allicesen Ramos, Evelyn Patrick, Verne Petersen, Emanuel Sweeney, Ann Louise Wilkins, Orsil Samuel Sr. and family, Gwendolyn Jacobs and family, Alice Richardson and Paula Powell; as well as other relatives and friends too numerous to mention. Thank you to the Continuum Care Staff.
The viewing will take place at 10 a.m. and be followed by a funeral service at 10:30 a.m., Tuesday, Sept. 11, at James Memorial Funeral Home Chapel. Interment will be at Kingshill Cemetery.