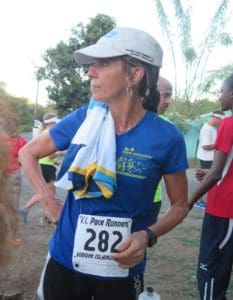 Good Hope Country Day School senior Dominic Pugliese showed that he is serious about doing what it takes to stay on top of the junior list of distance runners and triathletes as he led the way Monday afternoon in the 36th running of the Labor Day 5K Road Race on St. Croix's scenic north Shore. His winning time was 18 minutes and 12 seconds.
Joe Noonan, a 50-year-old master's runner and a member of the National Guard, was a hand full in the early going and finished second in 18:44; Mickey Dizon-Bauman is also showing that he will be a force to reckon with on the school side as he finished third in 19:07.
Good Hope Country Day coach Bridget Klein led the female runners to the start/finish line at Arawak Bay…The Inn at Salt River as the runners negotiated the half-mile climb up hill; she was fourth overall in 19:38; Megan Lambert was second in 21:54; V.I. Olympic marathon runner in 1992 Barcelona, Ana Guitierrez was third in 22:53.
Note:
1] The V.I.Pace Runners is celebrating its 40th Anniversary with plans to offer runs on its annual calendar as virtual runs to coincide with the real thing. Virtual runs will provide runners from afar who choose to run a V.I.Pace run where they choose and get scored in results and receive special race medal and V.I.Pace anniversary T-shirt. (more on this to be announced shortly)
2] It was great to see Ned Jacobs and Doug Brady in the race; both are long time V.I.Pace Runners from back in the 70s, and they still have their rivalry going.
3] Long-time V.I.Pace Runner Ana Gutierrez ran the marathon in the Pan American Game in Havana, Cuba, in 1991, the homeland of her family.
4] A notable performance was put forth by V.I. record holder Billy Bohlke, who landed just minutes before the race start but found that he missed the start. Running on his own because he loves it, he clocked 18:25!
The next event on the V.I.Pace Runners Calendar is the V.I. 10K Championship set for 6 a.m., Sunday, Sept. 16, with start/finish at Arawak Bay…The Inn At Salt River. Runners will head west to Lavalee and return.
For information, logon to: http:/virginislandspace.org; call: 643-2557; email: [email protected] 
Results of 36th Labor Day 5K Road Race/ Distance: 3-1 miles/ Sept. 3, 2018/ Christiansted, St. Croix/ Organized by Virgin Islands Pace Runners/ Sanctioned by VITFF
FEMALE RESULTS
PLACE/ TIME/ NAME/ AGE/ FROM DIV/ SEX
4 19:38:00 BRIDGET Klein 35 Good Hope Country F3039 F
8 21:54:00 MEGAN Lambert 37 Good Hope Country F3039 F
12 22:53:00 ANA Gutierrez 57 St.Croix, VI F5099 F
17 26:11:00 CARISSA Galloway 33 Medford, MA F3039 F
18 27:32:00 DULCIE Crowther 48 St.Croix, VI F4049 F
19 27:39:00 KIRSTINA Barny 33 St.Croix, VI F3039 F
20 27:57:00 AMBER Harken 41 St.Croix, VI F4049 F
21 28:24:00 ASHLEY Bouziavnis 34 St.Croix,VI F3039 F
24 29:18:00 MAYAH Russell 17 Good Hope Country F0119 F
25 29:28:00 ROY Ramsdell 14 Good Hope Country F0119 F
26 30:07:00 COLLEEN May 50 St.Croix, VI F5099 F
27 30:45:00 KIRA Lambert 12 Good Hope Country F0119 F
28 31:03:00 LINDY Freeman 46 St.Croix, VI F4049 F
33 35:23:00 AVA Kirschweng 11 Good Hope Country F0119 F
35 36:28:00 AYLA Siverly 15 St.Croix, VI F0119 F
.36. 42:10:00 MAE Menzies 56 St.Croix, VI F5099 F
38 46:06:00 YOUR NAME Please F0119 F
41 48:14:00 JONA Siverly 13 St.Croix, VI F0119 F
MALE RESULTS
1 18:12:00 DOMINIC Puglise 17 Good Hope Country M0119 M
2 18:44:00 JOE Noonan 50 V.I.National Guard M5099 M
3 19:07:00 MIKEY Dizon-Bauman 14 Good Hope Country M0119 M
5 19:45:00 BRICE Richards 14 Good hope Country M0119 M
6 20:25:00 WESTIN Galloway 34 Cambridge MA M3039 M
7 21:36:00 MASON Lambert 12 Good Hope Country M0119 M
9 22:18:00 JEREMY Garfoot 37 St.Croix, VI M3039 M
10 22:24:00 JONATHAN Babin 40 St.Croix, VI M4049 M
11 22:42:00 KADEN Gleashon 11 Good Hope Country M0119 M
13 23:06:00 RANDLE Nielsen 50 Superior Court M5099 M
14 23:36:00 RYAN Barry 38 St.Croix, VI M3039 M
15 24:18:00 COOPER Crowther 15 Good Hope Country M0119 M
16 25:41:00 MIKEY Klein 51 Jolly Roger M5099 M
22 29:02:00 DJ Bedells 48 St.Croix,VI M4049 M
23 29:06:00 JASON Harhen 41 St.Croix,VI M4049 M
29 31:59:00 MICHAEL Falcuek 45 V.I.National Guard M4049 M
30 33:14:00 DOUGLAS Brady 66 St.Croix, VI M5099 M
31 34:44:00 NED Jacobs 66 V.I.Pace Runners M5099 M
32 35:20:00 JEFF Kirschweng 36 St.Croix, VI M3039 M
34 35:53:00 DOUGLAS Menzies 67 St.Croix, VI M5099 M
37 46:04:00 JASON May 47 St.Croix, VI M4049 M
39 46:06:00 YOUR NAME Please M0119 M
40 48:11:00 MATHEW Siverly 45 St.Croix, VI M4049 M
OVERALL MALE/FEMALE
PLACE/ TIME/ NAME/ AGE/ FROM DIV/ SEX
1 18:12:00 DOMINIC Puglise 17 Good Hope Country M0119 M
2 18:44:00 JOE Noonan 50 V.I.National Guard M5099 M
3 19:07:00 MIKEY Dizon-Bauman 14 Good Hope Country M0119 M
4 19:38:00 BRIDGET Klein 35 Good Hope Country F3039 F
5 19:45:00 BRICE Richards 14 Good hope Country M0119 M
6 20:25:00 WESTIN Galloway 34 Cambridge MA M3039 M
7 21:36:00 MASON Lambert 12 Good Hope Country M0119 M
8 21:54:00 MEGAN Lambert 37 Good Hope Country F3039 F
9 22:18:00 JEREMY Garfoot 37 St.Croix, VI M3039 M
10 22:24:00 JONATHAN Babin 40 St.Croix, VI M4049 M
11 22:42:00 KADEN Gleashon 11 Good Hope Country M0119 M
12 22:53:00 ANA Gutierrez 57 St.Croix, VI F5099 F
13 23:06:00 RANDLE Nielsen 50 Superior Court M5099 M
14 23:36:00 RYAN Barry 38 St.Croix, VI M3039 M
15 24:18:00 COOPER Crowther 15 Good Hope Country M0119 M
16 25:41:00 MIKEY Klein 51 Jolly Roger M5099 M
17 26:11:00 CARISSA Galloway 33 Medford, MA F3039 F
18 27:32:00 DULCIE Crowther 48 St.Croix, VI F4049 F
19 27:39:00 KIRSTINA Barny 33 St.Croix, VI F3039 F
20 27:57:00 AMBER Harken 41 St.Croix, VI F4049 F
21 28:24:00 ASHLEY Bouziavnis 34 St.Croix,VI F3039 F
22 29:02:00 DJ Bedells 48 St.Croix,VI M4049 M
23 29:06:00 JASON Harhen 41 St.Croix,VI M4049 M
24 29:18:00 MAYAH Russell 17 Good Hope Country F0119 F
25 29:28:00 ROY Ramsdell 14 Good Hope Country F0119 F
26 30:07:00 COLLEEN May 50 St.Croix, VI F5099 F
27 30:45:00 KIRA Lambert 12 Good Hope Country F0119 F
28 31:03:00 LINDY Freeman 46 St.Croix, VI F4049 F
29 31:59:00 MICHAEL Falcuek 45 V.I.National Guard M4049 M
30 33:14:00 DOUGLAS Brady 66 St.Croix, VI M5099 M
31 34:44:00 NED Jacobs 66 V.I.Pace Runners M5099 M
32 35:20:00 JEFF Kirschweng 36 St.Croix, VI M3039 M
33 35:23:00 AVA Kirschweng 11 Good Hope Country F0119 F
34 35:53:00 DOUGLAS Menzies 67 St.Croix, VI M5099 M
35 36:28:00 AYLA Siverly 15 St.Croix, VI F0119 F
.36. 42:10:00 MAE Menzies 56 St.Croix, VI F5099 F
37 46:04:00 JASON May 47 St.Croix, VI M4049 M
38 46:06:00 YOUR NAME Please F0119 F
39 46:06:00 YOUR NAME Please M0119 M
40 48:11:00 MATHEW Siverly 45 St.Croix, VI M4049 M
41 48:14:00 JONA Siverly 13 St.Croix, VI F0119 F
FEMALE BY AGE GROUP
PLACE/ TIME/ NAME/ AGE/ FROM DIV/ SEX
33 35:23:00 AVA Kirschweng 11 Good Hope Country F0119 F
27 30:45:00 KIRA Lambert 12 Good Hope Country F0119 F
41 48:14:00 JONA Siverly 13 St.Croix, VI F0119 F
25 29:28:00 ROY Ramsdell 14 Good Hope Country F0119 F
35 36:28:00 AYLA Siverly 15 St.Croix, VI F0119 F
24 29:18:00 MAYAH Russell 17 Good Hope Country F0119 F
17 26:11:00 CARISSA Galloway 33 Medford, MA F3039 F
19 27:39:00 KIRSTINA Barny 33 St.Croix, VI F3039 F
21 28:24:00 ASHLEY Bouziavnis 34 St.Croix,VI F3039 F
4 19:38:00 BRIDGET Klein 35 Good Hope Country F3039 F
8 21:54:00 MEGAN Lambert 37 Good Hope Country F3039 F
20 27:57:00 AMBER Harken 41 St.Croix, VI F4049 F
28 31:03:00 LINDY Freeman 46 St.Croix, VI F4049 F
18 27:32:00 DULCIE Crowther 48 St.Croix, VI F4049 F
26 30:07:00 COLLEEN May 50 St.Croix, VI F5099 F
.36. 42:10:00 MAE Menzies 56 St.Croix, VI F5099 F
12 22:53:00 ANA Gutierrez 57 St.Croix, VI F5099 F
38 46:06:00 YOUR NAME Please F0119 F
MALE BY AGE GROUP
11 22:42:00 KADEN Gleashon 11 Good Hope Country M0119 M
7 21:36:00 MASON Lambert 12 Good Hope Country M0119 M
3 19:07:00 MIKEY Dizon-Bauman 14 Good Hope Country M0119 M
5 19:45:00 BRICE Richards 14 Good hope Country M0119 M
15 24:18:00 COOPER Crowther 15 Good Hope Country M0119 M
1 18:12:00 DOMINIC Puglise 17 Good Hope Country M0119 M
6 20:25:00 WESTIN Galloway 34 Cambridge MA M3039 M
32 35:20:00 JEFF Kirschweng 36 St.Croix, VI M3039 M
9 22:18:00 JEREMY Garfoot 37 St.Croix, VI M3039 M
14 23:36:00 RYAN Barry 38 St.Croix, VI M3039 M
10 22:24:00 JONATHAN Babin 40 St.Croix, VI M4049 M
23 29:06:00 JASON Harhen 41 St.Croix,VI M4049 M
29 31:59:00 MICHAEL Falcuek 45 V.I.National Guard M4049 M
40 48:11:00 MATHEW Siverly 45 St.Croix, VI M4049 M
37 46:04:00 JASON May 47 St.Croix, VI M4049 M
22 29:02:00 DJ Bedells 48 St.Croix,VI M4049 M
2 18:44:00 JOE Noonan 50 V.I.National Guard M5099 M
13 23:06:00 RANDLE Nielsen 50 Superior Court M5099 M
16 25:41:00 MIKEY Klein 51 Jolly Roger M5099 M
30 33:14:00 DOUGLAS Brady 66 St.Croix, VI M5099 M
31 34:44:00 NED Jacobs 66 V.I.Pace Runners M5099 M
34 35:53:00 DOUGLAS Menzies 67 St.Croix, VI M5099 M
39 46:06:00 YOUR NAME Please M0119 M