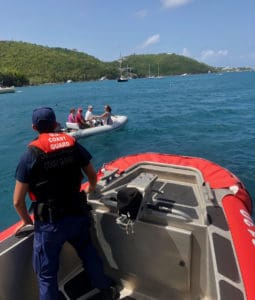 U.S. Coast Guard boat crews in Sector San Juan completed law enforcement patrols during the Labor Day weekend in Puerto Rico and the U.S. Virgin Islands in support of Operation PAX Defender, a regional effort to interdict possible illegal charter operations.
Sector San Juan boat crews completed a total of 34 vessel boardings that yielded one violation for a vessel that was missing safety equipment onboard, according to a news release from the U.S. Coast Guard.
"We will continue be on the lookout and hold accountable vessel operators and those who seek to mislead the public and Coast Guard officials with illegal charter operations," said Lt. Carlos Diaz-Colon, Sector San Juan marine investigator. "We will also continue our outreach efforts to help educate charter passengers on safe and legal charter practices."
According to the news release, Operation PAX Defender started as a response to increased illegal charter activity in Coast Guard 7th District's area of responsibility. The Coast Guard's 7th District Headquarters in Miami is responsible for Coast Guard activities throughout a 1.7 million square-mile area, which encompasses Puerto Rico, Florida, Georgia, South Carolina and 34 foreign nations and territories. This operation involved increasing patrol efforts throughout the 7th District to target operators who mislead and misrepresent themselves to customers and operate without license or certification.
"Tragically, people have lost their lives on illegal charters, as was seen in the case of the vessel Jaguar in the Tampa Bay area and in the case of the Miami Vice yacht in Miami," said Capt. Ladonn Allen, chief of Coast Guard 7th District prevention department. "The unsafe atmospheres that these types of companies and unlicensed captains, who knowingly engage in illegal activity, show a complete disregard for passenger safety and have been responsible for multiple deaths in Florida alone. We cannot stress enough to anyone looking to charter a boat to verify the captain's license and safety of the vessel."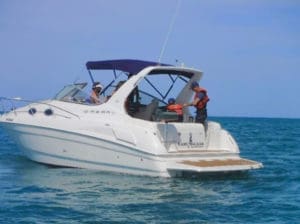 Owners and operators of illegal charter vessel can face maximum civil penalties of $41,456 for illegal passenger-for-hire operations.
Sector San Juan has issued 11 active captain of the port orders in Puerto Rico, ordering operators and vessels found to be operating as illegal charters to cease and desist.
Sector San Juan boat crews supported Operation PAX Defender with Boat Station San Juan 33-foot Special Purpose Craft – Law Enforcements response boats and the Coast Guard Cutter Yellowfin, a 87-foot coastal patrol boat homeported in San Juan.