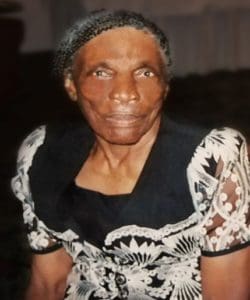 Olive Maud Osborne-Appleton of Joseph E. James Terrace died on Aug. 22 at the age of 86.
She was preceded in death by her parents: Percival and Irene Osborne; husband, Luke Appleton; sisters: Bernice Osborne and Beryl Osborne-James; brothers: George Osborne, Samuel Osborne and Kelsick Osborne; and niece, Hyacinth Veronica "Doo Doo" Tomlinson.
She is survived by her loving daughter, Janice Rose; son-in-law, Eustace Rose; grandchildren: Desiree Rose-Dadzie (Solomon), Jillian Rose and Shivonne Rose; and great-grandchildren: Jilissa Bradley, Curtis Jr and Jayden Charlery, Chase Tutein, Solomon Jr., Eliallah and Elidad Dadzie; great-great-grandchildren: Lauriah Burnett and Ayden Dimson.
She also leaves to cherish her memories stepdaughters: Evette and Charmaine Appleton; stepsons: Eustace, Ian and Winston Appleton; niece, Julia "Mary" Dover (USA); nephews: Conroy James wife: Laura) (UK), George Anthony (Elsita) (ANU) and Paul Osborne (Gemma) (UK); sister-in-law, Kathleen Osborne (UK); brother-in-law, Clifford James (UK); and special cousins: Lornette Gordon, Rolston Benjamin and family, Islyn Benjamin (ANU) and the Edwards family (ANU).
Other survivors include special friends: Joseph and Avarille Odlum, Cordina Hector and family, Glendora Morales, Marilyn Charles, Ruthlyn Matthew and family, Laurie Rogers, Corette Wilson, Christine King, Ethlyn Michael, Primrose Reifer, Joan Stout, Keturah Thomas, Cindy and Newland Joseph, the residents at Joseph E. James Terrace Housing Community, and the seniors and staff at the Richmond Senior Center. She is also survived by many other nieces, nephews, family and friends throughout the US, UK and Antigua too numerous to mention.
The viewing will begin at 9 a.m. followed by the funeral service at 10 a.m., Thursday, Sept. 13, at St. Peter's Episcopal Church, Estate Castle Coakley. Interment will be at Kingshill Cemetery.