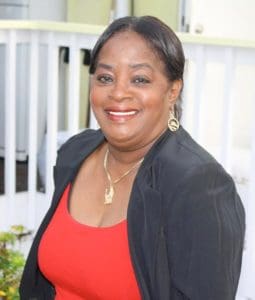 Leona E. Gordon-Schuster of St. Croix, U.S. Virgin Islands, died Aug. 7. She was 73years old.
She was preceded in death by her father, Eugene A. Gordon Sr.; and brothers-in-law: Winston C. Rissing and Edward Gay.
She is survived by her husband, Rexford E. Schuster Sr.; mother, Lyria B. Gordon; children: Eugenia E. Santos, Froilo G. Santos III and Dolorita M. Santos-GooKool; stepsons: Rexford E. Schuster Jr. and Paul C. Schuster; daughter-in-law, Janeth Santos; son-in-law, Wayne GooKool; grandchildren: Marrissia C. Matta-Broaden, Takara O. McIntosh, Brandon N. Santos, Ryan M. Santos, Nicole C. Santos, Jonathan A. Santos, Antonio W. GooKool, Ameera A. GooKool and Brianna Laurenceau; and grandson-in-law, Christopher M. Broaden.
She is also survived by great-grandchildren: Christina N. Broaden and Jaiden A. Santos; siblings: Eugene A. Gordon Jr., Gladys I. Rissing and Dolorita V. Gordon-Gay; only niece, Lyria A. Rissing-Collins; nephews: Alphaeus G. Russell, Eric Hamilton and Wayne Hamilton; niece-in-law, Darnaren Paquinol Russell; great nephews: John M. Collins III and Jaiden Z. Russell; aunts: Louise Phillips, Vivian Bedward and Doris Bonelli; uncles: Joseph "Sonny" Bonelli and Dante De Castro; and sisters-in-law: Irma L. Gordon, Eva Felix, Ellen Schuster, Louise Lamb and Claudette Benjamin.
Other survivors include brothers-in-law: Albert Schuster, Franklin Schuster Sr., Henry Schuster Jr. and Allen Schuster Sr.; special cousins: Alice Lang-Wise, Melba Lang, Florine Lang-David, Albert "Bertie" Lang, Merline Lang, Gloria Escobar, Myron Baa, Leila Bryant, Barbara Harrigan-Fredericks, Yvonne Gordon Henry, Jenny Graham, Viola Joseph and Yvette Kabatola; other relatives: the Gordons, Baas, Langs, De Windts, Christians, Harrigans, Shillingfords and many more that are too numerous to mention and dearly loved; close friends: Violet Connor, Deanna Garcia, Melrose Treasure and Blanche Peeble.
There will be a viewing at 10 a.m. followed by a funeral service at 11 a.m., Wednesday, Sept. 5, at Lord God of Sabaoth Lutheran Church. Interment will take place at Kingshill Cemetery.