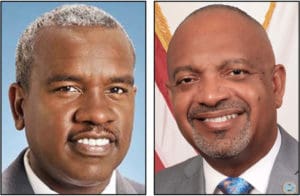 Over the past two days, the GERS has held a conference to discuss the future of the USVI government's retirement system, which is on the brink of insolvency. Albert Bryan, Democrat candidate for governor, and running mate, Tregenza Roach, Democrat candidate for lieutenant governor, were both in attendance. The campaign team has a well-defined, detailed plan for how to continue to fund and transform the GERS system for government workers and their retirements.
Virgin Islands Governor Kenneth Mapp and his team were not in attendance at the GERS Conference. In the absence of a solid plan coming out from the governor's administration, Albert Bryan and Tregenza Roach have developed a proposal that is well-researched and will preserve the retirement income of existing retirees and offer a pension for future generations of public employees. The plan was met with positive feedback during several town meetings held by the candidates in early June throughout the territory.
The System has at least $2.6 billion in liabilities and only $800 million in assets, and the government has failed to make the actuarially required payments to the system. Based on the size of the liability, it is evident that stopgap measures are insufficient. A significant infusion of cash into the System is needed by February 2023, or else the GERS will run out of assets by then, or sooner. The Bryan-Roach proposal includes putting restrictions in place to keep GERS sustainable, while not cutting benefits to current retirees. Their plan calls for rolling back future accumulation of benefits for active Tier 1 workers to the Tier 2 level that has been determined to be actuarily sustainable, without affecting prior accumulated benefits. New employees would be entered into a hybrid defined benefit/defined contribution plan.
Gubernatorial Candidate Albert Bryan stated, "It is evident that the $30 million per year for 10 years, as proposed by the current administration, is too little too late. The government is in no financial position to hire more employees to make up for the lack of contributions into the System." He continued, "Our proposal is a sensible approach for sustaining the retirements of our former and current government workers and provides a solution for this dire problem. To this, we must start the dialog now with the vested active workers and unions that represent them."
The Bryan-Roach Proposal on Transforming GERS is a comprehensive plan that outlines the current situation of the GERS, recommendations for revisions to the current System, and the potential impact on vested, non-vested, new employees and retirees. It also provides for proposed new sources of tax revenue to pay down the unfunded GERS liability, while infusing cash into the System. The complete details of the proposal can be found at www.votebryanroach.com.
Albert Bryan Jr. and Sen. Tregenza Roach
For more information, contact: John Engerman, campaign manager, 240-460-7233, or Cassandra Dunn, PR&marketing chair, 340-626-6690.