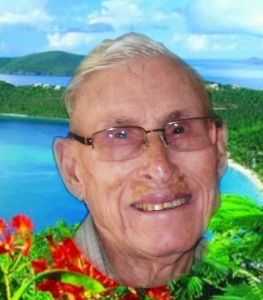 Joseph Leonard Turbe died on Aug. 2.
Leonard was born in Frenchtown, St. Thomas, U.S. Virgin Islands, on March 20, 1926, to his parents Hypolite and Lucy (Quetel) Turbe. He married Marie Anatalia Magras at St. Anne Chapel on June 12, 1949. They were married 69 beautiful years. Leonard and Anatalia moved from St. Thomas to Jacksonville, Fla., and then made their permanent home in Altus, Okla.
While living on St. Thomas, he retired after 30 years as cargo-sales manager with Pan American Airlines. He worked in later years as manager for both Marshall's Department Store and Quality Foods, also on St. Thomas.
Leonard was a member of St. Anne Chapel and president of the St. Anne Society in Frenchtown, St. Thomas. He was a member of the Prince of Peace Catholic Church in Altus, Okla.
Leonard enjoyed playing dominoes and was a master domino player among his peers. He also enjoyed gardening.
Leonard is preceded in death by his parents: Hypolite and Lucy (Quetel) Turbe; daughter, Debra N. Turbe Sokolowski-Clapp; brothers: Felix Turbe, Louis Turbe, Robert "Bobby" Turbe, Anothony "Tan-teen" Turbe and Daniel "Dan-dan' Turbe; and sisters: Ulalie Turbe and Marie Turbe-Danet.
He is survived by his wife, Marie Anatalia; sister: Cecilia Turbe-Quetel; brothers: Joseph "Joe" Turbe and Reynaldo "Manta" Turbe; sons: Leonard Joseph Turbe, Dale Gerard Turbe and Paul Leonard Turbe; daughters: Desiree Turbe-Alexander and Sandra Turbe-Winston; grandchildren: Thomas Sokolowski Jr., Theodore M. Alexander, Marcel W. Alexander, Drew R. Alexander, Stephen E. Turbe, Derik L. Winston and Jene M. Winston; and great-grandchildren: Lily A. Winston, Jayvyn Alexander-Santiago, Marisol Alexander, Jacob A. Alexander and Nicolas A. Winston.
In lieu of flowers, memorial contributions may be made to:
Make check payable to: St. Anne Chapel-Building Fund, St. Anne Chapel, 3695 Estate Altona, St. Thomas, U.S.V.I. 00802-6443
Memo: In Memory of Joseph Leonard Turbe
Or
Make check payable to: French Heritage Museum, French Heritage Museum, PO Box 591, St. Thomas, U.S.V.I. 00804
Memo: In Memory of Joseph Leonard Turbe