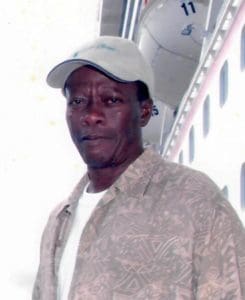 Alvin Browne died on Aug. 11.
He is survived by his spouse, Adella Browne; sons: Rickey Benjamin Sr., Deon Benjamin Sr. and Vaughn Tongue Sr.; grandchildren: Risa Benjamin, Rickey Benjamin Jr., Deon Benjamin Jr., Vaughn Tongue Jr., Brenden Benjamin, Rickell Benjamin, Dionna Benjamin, Devine Benjamin and Coyer Benjamin; brothers: Evitan Pope, Timmo Walker and Aldris Alton; and sisters: Thelma George, Marie Peters and Arabella Daniel.
He is also survived by sisters-in-law: Marie Williams, Viola Sealey, Delsie Benjamin, Erdolyn Simon, Kathleen Simon and Helenmay Jackson; brothers-in-law: Randolph Simon and Denfield Simon; nieces: Natanya Mc Dowald, Michelle Simon-Nicholas, Silver Jackson and Michelle Sebastian-Simon; and nephews: Paddy Jackson, Vernon Lake, Ulysses Simon, Colin Simon, Henry Jeffers, Lorne Simon, Murray Sealey, Leon Benjamin, Kevin Simon and Krent Simon.
Other survivors include special friends: Mr. and Mrs. Lescot and family, Mr. and Mrs. Martin Cupid (St. Vincent) Joseph family, Errol Gill and family, Florence Hector and family, Pearling Potter and family, John Hodge and family, Mr. and Mrs. Gittens family, Mrs. Walker and family Browne, Rowena Brown, Christian, Charles, Simon and family, and the I-Tech company at Lime Tree Bay; other family and friends on St. Vincent and Tortola too numerous to mention; as well as other relatives and friends too numerous to mention.
A viewing will be held from 3-5 p.m., Thursday, Sept. 6, at Divine Funeral Services Chapel, 129 Peter's Rest.
The second viewing will be held at 9 a.m. followed by the funeral service at 10 a.m., Friday, Sept. 7, at Friedensthal Moravian Church. Interment will be at Kingshill Cemetery.