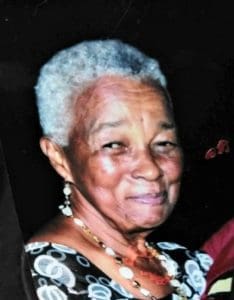 Annella Othello Cummings, also known as "Girlie" and "The Sunshine Nurse," of Estate Strawberry died on Tuesday, Aug. 21. She was 81 years old.
She is survived by her daughters: Gloria Thomas, JoAnne Nanton and DeAnne Cummings-Scott; sons: Carlos Joseph Othello, James Cummings Jr. and Anselm Cummings; grandchildren: Alicia Moore, Carlos Joseph ("CJ") Othello, Brandon Thomas, Micah Thomas, Robert Nanton II, James ("Jimmy") Cummings, Robert Michael Cummings, Joseph Cummings, Zion Ahmani Cummings, Emmanuel Scott and David Scott; six great-grandchildren; and sisters: Angela Othello and Myrtle Mulrain.
She is also survived by her brother, Henderson Othello; nieces: Althea Dorsett, Genevieve Williams, Deborah Dorsett, Annette Dorsett, Michelle Othello, Angela Lewis, Kemba Eletu, Sharon Othello, Sharon ("Afie") Othello and Keisha Othello; nephews: Anthony Dorsett, André Dorsett, Sheldon Othello, Darryl Othello, Ken Othello, Curt Othello and Abdul Eletu; and aunt, Pearl Othello.
Other survivors include uncles: Fitzroy Othello and Nelson Othello; daughter-in-law, Corette Cummings (wife of James Cummings Jr.); sons-in-law: Kenneth Thomas (husband of Gloria Thomas) and Robert Nanton (husband of JoAnne Nanton); sister-in-law, Veronica Othello; special friends: John Weeks (Evangelist), Leroy and Olivette Hamilton; as well as other relatives and friends too numerous to mention.
The viewing will take place at 9 a.m. followed by a funeral service at 10 a.m., Monday, Sept. 3, at James Memorial Funeral Chapel. Interment will be at Kingshill Cemetery.