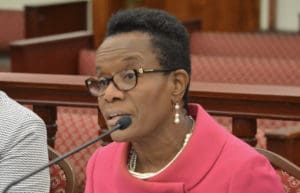 V.I. government agencies will be required to enter into hurricane and disaster preparation-related contracts by June 1 of each year, if legislation sent out of committee Monday becomes law.
Sen. Janelle Sarauw (I-STT) introduced the measure, which had many sponsors, saying the goal was to speed up and improve disaster response.
"I'm not implying anyone on the executive team is incompetent. The goal is to learn from our mistakes," Sarauw said.
She also said saw there were recommendations for amendments from some of the testifiers and would "happily offer the amendments."
V.I. Territorial Emergency Management Agency Director Mona Barnes testified in support of the bill, but asked senators to amend it to qualify its scope.
The bill "simply mandates a practice departments and agencies already exercise based on their needs," Barnes said. "VITEMA is in support of the premise of the bill but we request input into the details of the prepositioning of materials."
Property and Procurement Commissioner Lloyd Bough Jr. also testified in support.
The Finance Committee also sent forward a bill making an array of changes to consumer and commercial loan regulation in the territory. The text of the bill was not available at the Legislature's website as of Monday evening.
Director of Banking and Insurance Gwendolyn Hall Brady said the bill would set regulatory requirements for lenders and provide protections to consumers. She said its goal is to improved the supply of credit for Virgin Islanders, clarify and modernize the laws governing loans, foster competition , protect borrowers against unfair practices and several other goals.
"The enactment of this bill is critical primarily because many consumers in the territory purchase used automobiles and finance … through dealerships," Brady said. She said her division did not have statutory authority over these types of lenders under current laws but have received "numerous complaints from consumers against some used automobile dealerships regarding the high interest rates being charged and … unfair trade practices."
The committee also sent forward a quitclaim deed from the Commissioner of the Department of Property and Procurement on behalf of the Government of the Virgin Islands to Cyril LaPlace as Trustee of the Cyril A. La Place Trust for the following property: Parcel No. 11-B Estate Dorothea, No. 6 Little Northside Quarter St. Thomas, Virgin Islands consisting of approximately 230 square feet as illustrated on OLG NO. D9-9141-T016 dated March 14, 2016.
Senators held a bill appropriating $100,000 from the Tourism Advertising Revolving Fund to Calypso, Inc., for musical education. The fact that there was already a smaller appropriation in the budget for that group played a role in senators' discussion of the bill, as did the ongoing budget crisis.
They also held a bill reducing gross receipts taxes for some businesses.
Present were: Sens. Kurt Vialet (D-STX), Dwayne DeGraff (I-STT), Tregenza Roach (D-STT), Brian Smith (D-At Large), Alicia "Chucky" Hansen (I-STX), Janelle Sarauw (I-STT), Neville James D-STX Nereida Rivera O'Reilly (D-STX), Jean Forde (D-STT) and Janette Millin Young (D-STT).