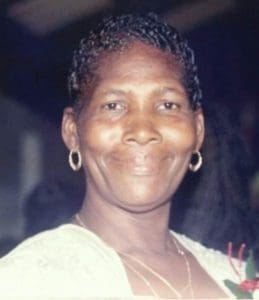 Ambrosine Charles, also known as "Sheila," of Estate Richmond died on Aug. 14. She was 68 years old.
She is survived by her daughters: Alma Nicholas, Diane Warner and Karen Charles; sons: Marvin Charles, Trevor Charles, Curtis Charles, and Steve Charles; grandchildren: Velma Nicholas, Vilma Nicholas, Valyne Nicholas, Valdez Nicholas, Nichole Warner, Stephanie Keating and Noelle Warner; great-grandchildren: Jada Joseph and Verrel Alexander; and sisters: Martina Ealouis and Shirley Cenac.
She is also survived by brothers: Johnson Nicholas, Francis Nicholas, Lawrence Nicholas and Michael Nicholas; nieces: Shearan Felix, Brenda Lionel-Augustin, Jessica Nicholas and Luviska Nicholas; nephews: Clius Nicholas and Curtis Nicholas; great nieces: Brenesha Longville and Brennaya Augustin; son-in-law, Leon Warner Jr.; sisters-in-law: Bernadette Abdul, Anastasia Nicholas, Pamela Amun, Sharon Smith, Stephanie Scott and Margaret Charles; as well as other relatives and friends too numerous to mention.
The viewing will take place at 9 a.m. and the funeral service at 10 a.m., Saturday, Sept. 1, at James Memorial Funeral Home Chapel. Interment will follow at Kingshill Cemetery.