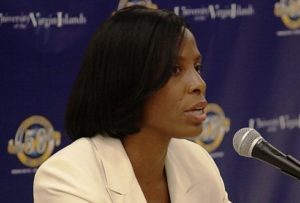 A year after two hurricanes struck the territory, Congress and federal agencies have approved substantial funds for rebuilding infrastructure. But President Donald Trump's administration is putting hurdles Congress never intended in the way of accessing the loans, Delegate Stacey Plaskett said.
In a phone interview with the Source, the delegate discussed financing the ongoing rebuilding of the territory, the Caneel Bay lease, the upcoming election and other issues.
"I know the V.I. Finance Department has had difficulty getting that money from (the U.S.) Treasury and Treasury is asking for things not intended by Congress, like first priority liens and collateral. … Those are not things Congress intended to be required because Congress was fully aware the territories were having financial and fiscal issues," Plaskett said.
"This administration is a bit more risk averse and more conservative in allowing the funds to be released," Plaskett said.
While the territory's rebuilding effort is authorized to receive more than $1.5 billion in federal grants, that money only indirectly helps the V.I. Treasury, through taxes paid by contractors hired with those funds. But last year's storms put a temporary dent in local tax revenues, which did not help the V.I. government's structural budget shortfalls and fiscal woes.
Congressional funding for disaster assistance included funding for disaster assistance loans, and the Federal Emergency Management Agency gave initial approval for up to $296 million in disaster loans that could be used to offset revenue losses related to the storms – $250 million for the operations of the central government and $46 million for the territory's hospitals.
But FEMA held up that total, disbursing $85 million in loans as of February, with $65 million going for FY 2018 budget expenses and the rest to the territory's hospitals.
Finance Commissioner Valdamier Collens told V.I. legislators at the time that any future loans the government receives will depend on whether first-lien status can be given to FEMA and the U.S. Treasury, which could violate the terms of previously issued bonds. Even with those liens, which may not be possible, the territory would likely be eligible for around $100 million and no more than $200 million.
Months later, the previously-approved disaster loans remain unavailable. Gov. Kenneth Mapp's FY 2019 budget makes no mention of new disaster loan revenues.
When speaking with Vice President Mike Pence earlier in August, Mapp and Collens also "raised concerns over some of the unnecessary obstacles that the Treasury Department has imposed" on these loans, according to a Government House release.
Plaskett said the Trump Administration is a bit more risk averse and more conservative in allowing the funds to be released.
Meanwhile, the territory is in the process of rebuilding much of its infrastructure even stronger than before, and Plaskett believes her recommendations and her arm-twisting in Congress helped bring in more funding.
"My argument to the government … and the governor was we have to aim high in terms of what we are asking for. Because we will not be able to come back and correct it later if that number is not what we need," Plaskett said.
Initially, federal help to the Water and Power Authority could only rebuild it to what it had been before the storm.
"I believed we had a good argument to change the law to let us rebuild it as it should have been," she said. Bringing members to the territory to see for themselves helped.
"More important was being here every day in the halls of Congress and cornering members of the Appropriations Committee and saying part of the reason Puerto Rico and the Virgin Islands sustained the level of damage we did was because we had unmet needs because Congress shortchanged us on that funding. And that argument actually stuck," she said.
She pointed out the territory's hospitals have not had the same sort of funding as stateside locations and for many years the federal government has provided less per capita Medicaid funding to the USVI than a similarly situated state would have gotten. The reimbursement schedules for Medicare date back to the 1980s.
"Because of that, we have to make decisions about what to do: Do we keep the lights on? Care for patients? Or put a new roof on? And the roof gets set aside again and again," she said.
A few days after making that argument to them, Hoyer and McCarthy penned an article in the Washington Post urging Congress to change the federal law, she said.
V.I. Government's Public Reporting Lacks Sufficient Detail
As grant funding for rebuilding comes in, Plaskett feels it is crucial the territory manage the funds well. And while the V.I. government is reporting gross numbers to the public through a website (http://www.usvipfa.com/hurricanehome.html) it lacks detail.
"I don't think it meets what Congress intended," Plaskett said.
The reporting "is supposed to be pretty granular," the delegate explained.
"It should break down to at least every million dollars and should say when the money is drawn down so that the bid process is available to all contractors" she said.
Ideally, every federally-funded project would be advertised in the same location, not spread among various departments from Education to Public Works, she said.
"That needs to be put into the website. There are a lot of notices they are not doing and should be," Plaskett said. "This is really a trust fund. In many ways it is our children's trust fund, to ensure that things are put in place so they can have a better Virgin Islands 10 years out or 20 years out."
Asked if she felt there was a risk of funds being misused, Plaskett said the federal government has stringent reporting requirements, suggesting the concern was more about public notice and input into projects and getting the broadest response to requests for proposals.
"The reporting to Congress is done at a much faster pace. … There are mechanisms for that," she said.
No News Yet on Caneel Bay Lease
Congress has been out on recess for August so no hearings are scheduled on legislation for a 60-year lease for the Caneel Bay Resort on St. John.
"We will see what happens when we come back after Labor Day," Plaskett said.
The deal could be modified in committee, but all the parties, including the developer, would have to ultimately agree. But not all objections and concerns about the lease are necessarily reasonable, she feels. In particular, a shorter lease term might discourage a developer from taking the risk.
"I think they are being unrealistic to expect an investor to invest $100 million and not be certain to have enough time to recruit the investment," Plaskett said.
Voters Need To Make Tough Choices in November
With the territory facing serious fiscal difficulties and a failing pension system, what does Plaskett see for the territory's prospects over the next five or 10 years?
"Part of it is having better management. It is people making tough decisions about who they elect to manage the finances of the Virgin Islands. Elected officials will need to be making some tough decisions and making sure what needs to happen, happens down the line," she said.
Plaskett said she is grateful the territory is going to be able to put in new and better infrastructure, but there "are some fundamental equity issues" still facing the territory.
"If the composition of Congress changes I think some of those might more easily be accomplished. But those issues are still there and the people of the territory need to keep their eyes wide open," she said.
Who should Virgin Islanders elect?
"I am supporting the Democratic ticket, for the members of the Legislature as well as at the gubernatorial level," Plaskett said.