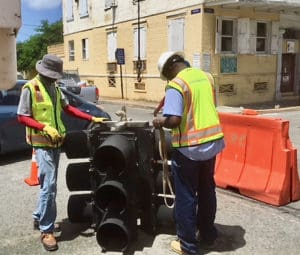 About 75 percent of the hurricane-damaged intersection equipment on St. Thomas and St. Croix that were still out of service in March have been restored and are now functional, according to Jomo McClean of the Department of Public Works.
McClean said an estimated 59 intersections on St. Thomas and St. Croix were still in need of repair in March after being ravaged by Hurricanes Irma and Maria. Three quarters of those intersections, around 45, are now functional.
McClean, the DPW engineer who manages the Federal Highway Administration Emergency Repair Program, said the two intersections on either side of the Vendor's Plaza on the St. Thomas Waterfront will be operational in less than two weeks. The delay in the repair of these two intersections has prompted public concern from those anxious to see work completed faster.
"Our work to restore traffic lights and road conditions is something that DPW wants to do correctly," McClean said. "We don't want to complete any work in a temporary fashion. We want to do the project right the first time and get it done in a timely manner – but not at the cost of quality. We want the repairs to be a permanent solution for the community and part of the department's structural building legacy."
DPW plans to return all street lights up to standard, with new poles and signage, and also intends to upgrade the equipment.
"All territorial traffic signals will now be LED lights, which produce a brighter light and can been seen from a farther distance," McClean said. "Many key intersections will benefit from supplementary uninterrupted power supply support that will enable those intersections to maintain functionality for hours when power is disrupted."
Aside from traffic lights, DPW initially prioritized all repairs to roadway damage by the 2017 hurricanes based on each road's public usage. Areas with the highest public demand were addressed immediately, whereas others in less frequent demand are in the pipeline for repairs which haven't begun yet. For instance, the public has seen work already completed on St. Thomas including reconstruction, paving and signage on the Brookman Road, the Wintberg Road and the retaining wall on the Crown Mountain Road. On St Croix DPW focused its immediate, post-storm efforts on the container port road and the Veteran's Shore Drive in Frederiksted.
The Turpentine Run Road project is another project also nearing completion.
"Asphalt has been laid on the north side of the approach to the bridge and the unexpected sewerage line issue which temporarily delayed the project's earlier completion has been resolved," stated McClean, "For the last few weeks workers have re-focus their attention on the bridge work and its anticipate the project will be completed this fall."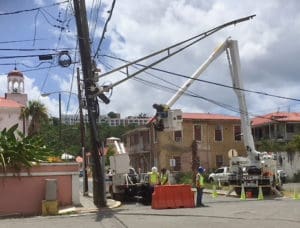 According to Public Works Commissioner Nelson M. Petty, Jr., fixing the structural issues resulting from the two September hurricanes has translated into millions of dollars in territorial road projects that still must be completed. More than 20 territorial projects are in various levels of consideration. These additional projects do not include work on St. Croix involving the Melvin Evan's highway or the Sion Valley road and sidewalk construction.
Adding to the incoming infrastructure projects in the Virgin Islands, are an additional $243 million in Community Development Block Grant- Disaster Recovery funds. This money will be used for a variety of disaster related recovery projects.
"This will empower the DPW to address residential area road projects," McClean said.
Requirements to obtain the funds include: 70 percent of the money must be used to address low and moderate income residential areas; priority routes must be repaired first; and all repairs are tied directly to Hurricanes Irma and Maria."
Moving forward, DPW representatives said, quality and quantity of repair projects be completed in a thoughtfully and deliberately way. Proposed projects must have detailed scopes of work and must be verified regularly for compliance.
Consideration must be paid to all federal and local testing requirements – for adherence to construction criterions as well as to ensure that the quality of building materials, (concrete, asphalt and other supplies) meet prescribed standards.
"The design and bid phases for ALL contracts take time and proper examination," McClean stressed. "There are no short cuts to designing the correct scope of work for a project. DPW's attention to detail at this stage ensures work will be done correctly and will last. It takes time to complete this portion of our job."
"One project that St. Thomas residents will see work commence shortly is the Pilgrim Terrace By-Pass Road project. Bids were due the first week of August," Petty said.
"On St. Croix, bids were due the last week of July for two projects involving road repair work," Petty said. "The first project is in the vicinity of the Cruzan Rum plant on Route 64, also known as the West Airport Road, and the second project involves the Sierra Verde Road, on the East End of St. Croix."
Petty replied DPW still faces two major challenges: manpower limitations and public understanding.
"We have projects and funding in the pipeline, but the workload we, and also our contractors have, far exceeds the V.I.'s manpower resources. There simply aren't enough workers to complete the projects as fast as we would like. This is one of the major reasons for project delays throughout the territory, Petty said. "We can't get everything done simultaneously. Some projects have to wait until people working on the first set of projects are available to take on the new jobs. This creates a situation where, from the public's perspective, it looks like things aren't getting done quickly enough."
"Unfortunately we live in a world where instant gratification is the everyday expectation," Petty said. "Depending on where a resident lives or what their personal priorities are, one project may mean more to them than another. If their preferred project doesn't get the immediate attention they expect, the individual thinks that project isn't a priority, or isn't getting completed fast enough."
"Hopefully things will change soon. With all these projects coming on line, the department is aggressively seeking qualified employees to help. We need engineers and support staff and are expecting to hire over 70 new employees by the end of August. We have already received over 400 applicants with well over 100 of them properly qualified for the positions we are posting."
The second challenge is the publics' understanding of what it takes to complete repairs, he continued.
"For instance, normally, public roadways have an expected lifespan of about 15 years if they are constructed with all the correct requirements. One key element that determines a road's ability to remain intact is the degree to which it is exposed to water damage. Immediately following Hurricane Irma, V.I.'s roads sustained only minor damage if any. For the most part, V.I.'s roads were in a good position to rebound from the rain water dumped by Hurricane Irma," Petty said.
"Hurricane Maria, however, changed all of the dynamics. With Maria, road drainage wasn't even a factor. Maria took away all the trees, created mudslides and prevented water from soaking into the ground or even having any place to go. Compounding the situation," Petty continued, "the V.I. received two full months of sustained, significant rainfall. The damage to V.I. roads was exponentially magnified by the additional rainfall as compared to what it would have been the case if the rains ceased following Maria. No road work could even be started until November."
Petty said that created an extraordinary situation for DPW and for the residents of the V.I.
"Unfortunately, people may not have understood that no work could begin until the massive amounts of water had somewhere to go," he said.
Irma and Maria were extraordinary events and despite the tremendous resources, money and other support that came and continues to come from the federal government, it is taking time to get the territory back on track. The commissioner said he is tremendously grateful to the V.I. community for their understanding and patience as his department tackles one of its most challenging periods in history. He asked for continued public support and perseverance as he and his DPW staff rebuild the V.I.'s infrastructure. He also reminded the public that the V.I. is not the only place challenged by time delays. For instance, he noted that jurisdictions impacted by Hurricanes Sandy (Long Island, New York) and Katrina (New Orleans, Louisiana) are still working on recovery projects.
On a side note, Petty said he wants the V.I. public to know the territory is actually realizing unexpected benefits.
"Given the fact that the V.I. is competing with other jurisdictions, like Puerto Rico, for the same pot of disaster dollars, the V.I. has received tremendous aid from the federal government. We have not only received funding and other resources, but we have gotten their full support in other ways," he said. "The V.I. is being called upon by various federal agencies and governments in other areas to act as advisors for 'how-to' get things done following two Category 5 hurricanes. We have become a testing ground for the development of new procedures."