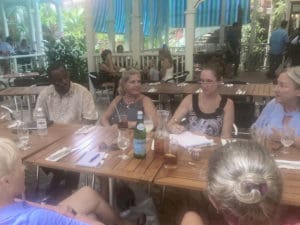 A shortage of direct flights to the territory is one of the most pressing issues facing tourism housing on St. John, according to members of the St. John Accommodation Council who met last week with a member of Gov. Kenneth Mapp's cabinet.
Prior to the 2017 hurricane season, travelers had the ability to book direct flights from multiple locations.
"We still have direct flights from Atlanta, Miami, and one from the JFK airport, but we do not have any coming from Boston. This is a problem, the majority of the tourists that visit St. John are coming from the northeast." SJAC president Kathy McLaughlin said.
Members of the council and guests met with Frankie Johnson, senior policy advisor for the Mapp Administration. The meeting covered issues faced by villa rental managers and the far reaching effects of these issues on tourism, the economy, and each member's ability to operate as a business.
The SJAC has operated on the island since 1989, supporting organizations and initiatives that improve the livability of St. John, with the intention that those improvements will impact both residents and tourists. Members of the SJAC also represent much of the villa rental industry on St. John, managing vacation villa rentals and fueling many other businesses on the island of St. John.
"St. John's economy is dependent on these homes. The guests go to the different restaurants, they purchase groceries in local stores, and we hire local maintenance men and housekeepers" member BJ Harris said.
Attendees felt that the decrease in direct flights coupled with a decrease in nationally syndicated ads for the territory have dealt a significant blow to tourism revenue.
Members said St. John has a sufficient amount of villas available to accommodate tourists while the major hotels throughout the territory are still recuperating. They told Johnson they would be able to present accurate numbers on accommodation to the governor in a separate meeting.
"This is information that the governor needs to know. Our hotels may not be ready, but those with rooms available are" Johnson said.
Licensing was another topic mentioned at the meeting. SJAC members and other villa rental managers on St. John are concerned that the current rules regarding licensing for vacation villa rentals are too ambiguous.
V.I. law requires that villa rental managers obtain a real estate brokers license because their work with property involves leasing and sales. Enforcement of the law has been uneven since its approval in 1972, and real estate licensing law in the territory has not been updated since then.
Villa rental managers also have the option of a homeowner's representative license/coordinator's license, and it is unclear whether that license allows them to collect rental income, and place it into an escrow account; a necessary process that ensures that customers are financially protected. Some villa rental managers have both licenses, while some are currently operating with only the latter.
Some suggest that a separate license be established specifically for villa rental managers.
SJAC members and other villa rental managers are also concerned that by not having a simple-to-understand licensing process, villa managers will begin to operate without one, meaning they will not have to pay gross receipt taxes to the V.I. Bureau of Internal Revenue.
The meeting attendees also discussed the increased volume of trash present on the island, and with all agreeing it was a territory-wide issue.
Johnson took note of each attendee's concerns, and assured them that they would have an opportunity to present them to the governor in person.
"The next step is to have the governor hear directly from you" Johnson said.
The group plans to hold a follow-up meeting with Mapp, Tourism Commissioner Beverly Nicholson-Doty, and representatives from the V.I. Waste Management Authority, but no date was scheduled.