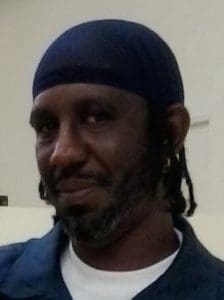 Karim R. Woodley of Estate Williams Delight died on Aug. 6. He was 40 years old.
He was preceded in death by his father, Maurice Woodley.
Karim is survived by his wife, Jalivya Woodley; children: L'Chante, Kimoi, K'mira, K'marley and stepdaughter Kaywana; grandchildren: Jahmall and Royal; mother, Violet "Molly" Woodley; brothers: Kurt Woodley (Calif.), Kaijam Woodley(Wis.); mother-in-law, Dawn Brodhurst; sisters- in-law: Sydney Woodley, Nadia Woodley, Trinisia Jones, Lakeya Abbott and Jahnyra Cambran; brothers-in-law: Henry Milligan, Halik Milligan, Amon Thomas and Nathaniel Thomas; and uncles: Lofton Morton (Nevis), Cedric Woodley (St. Croix), Eldon Woodley(St. Croix), Myron Woodley (St. Croix), Joseph Woodley (St. Croix) and George Woodley (St. Croix).
He is also survived by aunts: Jeanette Hobson (N.Y.), Valerie Morton-Finley (N.Y.), Joyce Tyson (St. Croix), Sharon Browne (St. John), Ila Woodley (St. Croix), Ethleen Woodley (St. Croix), Elizabeth "Fortuna" Woodley (N.Y.),Victoria Woodley (St. Croix), Jane Woodley (N.Y.); aunts-in-law: Joy Christian, Denise Edwards, Yvette Jude, Gloria McBean, Lorna Baltimore, Debra James, Roseann Mason, Celeste Brodhurst and Denisia Fabio; and uncles-in-law: Kennedy Browne, Sydney Finley, Edward Mcbean and Canute Brodhurst.
Other survivors include cousins: Dale Morton, Tony Morton, Cynthia Barrington, Marlon Tyson, Marlene Tyson-Boynes, Sean Browne, Shevaun Browne, Kwasi Browne, Gamel Finley, Janel Hobson, Alfred Woodley, Myron Woodley Jr., Dean Woodley, Avolyn Smith, Veronica Woodley, Denise Woodley, Tyrone Woodley, Wayne Woodley, Zelphia Marcus, Delysia Davis, Givonn Woodley, Sylvester Woodley, Sandra Woodley, Colin Woodley, Zelda Woodley and Natasha Woodley.
More survivors include special friends: Mark Branch, Jamesson Lythus Jr., Michael Ortiz, Allan Schuster Jr., Mohammed Asad, Joseph Asad, Ramy Yosef, Desmond Lloyd, Glenn Lloyd, Fade Yosef, Jeron Oversen, Rodney "Turtle" Caesar, Million Meede, Hilary Taylor, Rahim Wilson, Lenroy Cambran, Kareem Ambrose, Thadeus Dalson, Carrie Cruz, Dale Powell and Carlos; godchildren: Shanecia Mustafa, Shandeah Mustafa, Hijary Taylor, Tia Dalson, Allan Schuster III, LeNyra Cambran, Lenroy Cambran Jr., LeNya Cambran, Kiyane Schuster and Emari Hernandez.
He will also be mourned by the Saddler family, the Browne family and many additional families and friends too numerous to mention.
The funeral service will take place at 10 a.m. on Saturday, Aug. 25, at James Memorial Funeral Home Chapel. Interment will follow at Kingshill Cemetery.