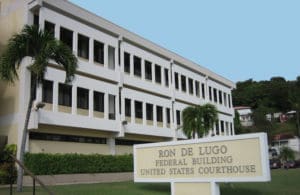 After two full days of witness examination in V.I. District Court, both sides in the federal corruption case against former Sen. Wayne James made their closing arguments to a jury Tuesday evening.
The jury is scheduled to convene at 9 a.m. Wednesday to begin deliberating on a verdict on the two counts of wire fraud and one count of embezzlement James is facing.
The U.S. Government alleges that James misused tens of thousands of dollars in V.I. Legislature funds he requested to pursue research on the 1878 Fireburn, St. Croix's famous labor uprising. The prosecution argues that subpoenaed emails, bank statements and money transfer records prove most of the approximately $90,000 in public funds James received for the Fireburn project never reached the researchers and translators James submitted invoices for, at least one of whom may not exist, according to investigators.
Member of the prosecution Luke Cass told jurors during his team's closing arguments that "Wayne James used the Fireburn to turn the Legislature into his own personal ATM machine, his own personal piggy bank."
He advised jurors to pay careful attention to the testimony of Brian Kalhøj, a witness from Denmark. Kalhøj was a friend of James whose name appears on two invoices the former senator submitted to receive funding for Fireburn research. Kalhøj said one of those invoices is a misrepresentation of amateur translation work he did for James years prior, and the other he had no knowledge of.
While some of the money James received for his Fireburn project was paid to the Danish National Archive or individuals in Denmark who did research for him, the prosecution alleges that Kalhøj's name isn't the only suspicious one found on invoices submitted by James. Invoices were also submitted under the names Peter von Troil and Lise M. Johansen, but investigators said they found no evidence of communications or payments to anyone with those names after going through 38,000 of James' emails, statements for all his known bank accounts, and Western Union and Moneygram records.
The prosecution's closing argument also recalled witness testimony that some of the more unexplained funding requests submitted by James coincided with large payments made towards his own re-election campaign and a $10,000 debt that had accrued for a storage facility.
At the same time, James' financial situation was troubled, prosecutors said, because his paycheck had been reduced to a quarter of its normal amount due to a tax levy. During his time in office, James owed almost $200,000 in back taxes.
Omodare B. Jupiter, the federal public defender representing James, argued the prosecution's case is weak because it lacks witness testimony from those closest to James' activities during his time in the senate, places too much weight on invoices for vendors that may have changed, and doesn't fully account for the Fireburn documents James did receive from Denmark.
Jupiter said it was years into the investigation of James before FBI agents looked into boxes of documents related to his Fireburn research that were being held in a storage facility. He said they were moved there after the Legislature's offices on St. Croix were flooded in 2010 by Tropical Storm Tomas. Assuming some of the documents were destroyed in the flood, Jupiter argued, investigators did not have a good sense of how many documents James paid for and received from Denmark.
He also told jurors to consider that invoices submitted along with requests for cash advances might not have the correct vendors. James may have decided to pay other parties not listed in records for research and translation services, he argued.
"A cash advance is just that. Something to be paid in the future," Jupiter said.
He added that the business office of the Legislature was being irresponsible by "putting the onus" on James to manage the money for the Fireburn project, and they may be the party to blame for bad record keeping.
"It wasn't Wayne James who said give me the checks," Jupiter said. The Legislature's business office gave James the checks because they lacked the ability to do international money transfers at the time.
"That doesn't sound like a scheme to defraud to me," he said.