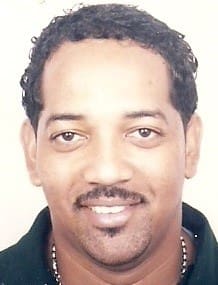 Josue Martinez Sr. of Barren Spot died on Aug. 4. He was 43 years old.
He was preceded in death by his mother, Carmen Martinez; and father, Celedonio Martinez.
He is survived by his spouse, Germaine A. Martinez; son, Josue Martinez Jr.: stepdaughters: Sherell A. Canton and Benedicta Canton; stepson, Raynaldo O. Canton; father-in-law, Charles A. Farrell; mother-in-law, Geralda "Audrey" Farrell; step-grandchildren: Terell and Allina Canton; sisters: Blanca I. Maldonado, Carmen D. Cassius, Maria D. Khan, Sandra Y. Walcott and Marta J. Nicholas; and brothers: Jose, Celestino, Ismael, William, Eddie, Johnny A. and Isaac Martinez.
He is also survived by his nieces and nephews: Taniella Martinez and Jose Martinez Jr., Linda Finney, Kharisma Johnson, Melady and Travis Dolcar, Craig Casimir, Misael, Julie and Keila Maldonado, Jamal and Danny Andrews, Shawn and Kama Cassius, Darian, Amber Marie and Jahmaris Martinez, Abramarie and Abraham Khan Jr., Lawrence A. Walcott III and JeNe' Walcott, Shamyra, Jessica, Elyssa, Izaiah, Iahkiem, Iahkeil, Eddie E. and Asani Martinez, Gary Jr., Gareem and Genique Nicholas, and J'lene, Isaac Jr., Izani, Izaylia, Izangeli, Inayah and Izabella Martinez.
Other survivors include great nieces and great nephews: Teq'keisha, T'ana and Horace Matthew Jr., Kianna and Eliasim Maldonado, Jameel and Jamal Andrews Jr., Kamil, Kamani and Kamajay Cassius, Ariana Skye and Angel Luis Walker III, Jamal Williams Jr., Alma Casimir, Aundre Dolcar, G'Nia, G'Shawn and G'Vawn Nicholas, Sierra Scotland and Earl Morris Jr., Jahneyah, Bryson and Jahaziah Martinez, and Darion Martinez Jr.; special aunt, Margarita DeLeon Centeno; and aunts: Milagritos Davila, Lydia Negron, Gloria, Malen and Carmen Carrion, Julia Rosa, Lina Rosa, Ketty Rodríguez and Carmen García; cousins: Elizabeth, Manuel and Wanda Centeno, Mercedes Allahar, Cary M. Johnson, Carmen Ramos, Agustina Rosa and Rosita.
Survivors also include sisters-in-law: Latoya and Danna Martinez, Ana C. Felix, Gizelle and Geryl Miller; brothers-in-law: Samuel Maldonado, Kenneth Cassius, Abraham Khan, Lawrence Walcott Jr., Gary Nicholas and James Miller Jr.; special friends: Wade "Dread" Nurse, Joseph Lestrade, Frank and Maurin Rijo, Zac and Petra Clement, Ronald Mason, Arnold and Ian Jarvis, Angel Suarez, Daryl Brewster and family, the entire Simmonds family, Bart, Champi and Shep Graham, Nicholas "Big Nick" Nico, Lois "Hacka" Felix, Ted "Waban" Baltimore, Franky and Norma Irizarry, Selvyn "Willie" Willocks, friends at JFK, friends at Diageo and Hovensa; as well as other relatives and friends too numerous to mention.
The family requests that those in attendance wear shades of brown.
The viewing will begin at 9 a.m. followed by a funeral service at 10 a.m. on Wednesday, Aug. 15, at Iglesia el Tabernaculo, Williams Delight. Interment will be at Kingshill Cemetery.