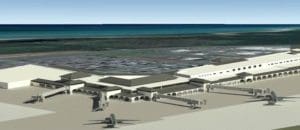 The Virgin Islands Port Authority (VIPA) invites the public to a design charrette to view and discuss VIPA's vision to transform the Henry E. Rohlsen Airport (HERA) Terminal into a modern facility to better serve travelers and the users of the terminal. The charrette will be held at 5:30 p.m., Tuesday, Aug. 21, at the HERA Terminal Cruise Lounge on St. Croix. It will be hosted by VIPA officials and its aviation consultant, American Infrastructure Development.
Planned improvements for HERA Terminal include:
· The redesign, expansion, and modernization of the interior of the terminal to make best use of the existing floor plan
· The addition of a second level to accommodate jet bridges, additional hold room, concession and retail space
· Improve passenger flow and baggage handling
· Tropical landscaping, and improvements to assist with the flow of vehicular traffic
Feedback, suggestions and ideas are encouraged and welcomed.
For more information, contact the V.I. Port Authority Public Relations Office at 774-1629 or [email protected].