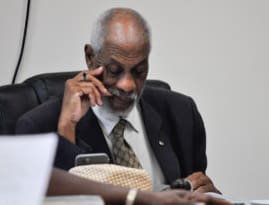 Honorable Brian A. Smith
Senator-at-Large
32nd Legislature of the Virgin Islands
Legislature of the Virgin Islands
Capitol Building
PO Box 1690
St. Thomas, VI 00804
Dear Senator Smith:
This letter acknowledges receipt of you petition for a manual recount of votes that were casted for the August 4, 2018, Primary Election.
Personally, I believe your letter is ridiculous and inconsistent with the section of law that deals with recounts, Title 8, Chapter 23, sec 629. Nonetheless, a meeting of the Board is scheduled for Monday, August 13, 2018, at 1:30 p.m. consistent and pursuant to Title 18, Chapter 23, sec 629, via video teleconferencing at the St. Thomas and St. Croix Election Offices, to decide on your petition. You may attend the meeting at the Election System Office of your choice, at the St. Thomas or St. Croix location.
Further, I believe that your request is an insult to those persons who elected you and those persons who participated in the Democratic 2018 Primary Election.
Sincerely,
Arturo R. Watlington Jr.
Board of Elections
Chairman