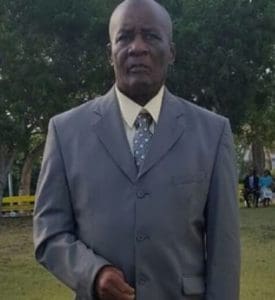 Charlesworth "Raphie" Roberts died on July 20.
He was preceded in death by his mother, Beatrice Peters; and father, David Roberts.
He is survived by his daughters: Aisha Roberts, Akilah Roberts and Charmaine Roberts-Spencer; sons: Gladstone D. Roberts, Foster Roberts, Shawn Roberts, Roger Roberts and Omar Roberts; adopted son, Tristian Jones; grandchildren: Shelaya D. Short, Shayla Roberts, Khalil Roberts, Ojahni Roberts, AdoniJah Williams, Torian Jones, Jenae Roberts, Tonya Roberts, Kiev Roberts, Denim Roberts, Tajah Roberts, Tanya Spencer and Naricia Henry; great-grandchild: Jeremiah Jones; and brothers: Cecil Williams (Antigua) Frederick Williams (Antigua), Dave Ralph (Antigua) and Rudolph Roberts (Antigua).
He is also survived by sisters: Nalva Williams (Antigua) and Marilyn Williams (Antigua); aunt: Mrs. Jenita Floyd (Antigua); nieces: Arlene, Sylvia, Nicla, Ozariah and Omara; nephews: Oris, Kowesi, Alexil, Oronde, Justin and Jamie; families: Nelson family and Payne family; special friends: Daisylin Zitzmann, Charles family, Trini Superior Block family, Charles Concrete family, and Flamboyant staff and residents; as well as other relatives and friends too numerous to mention.
A viewing will be held from 4-6 p.m. on Wednesday, Aug. 15, at Divine Funeral Services Chapel, 129 Peter's Rest.
A second viewing will be held at 9 a.m. followed by a funeral service at 10 a.m. on Thursday, Aug. 16, at Sunny Isles Baptist Church. Interment will be at Kingshill Cemetery.