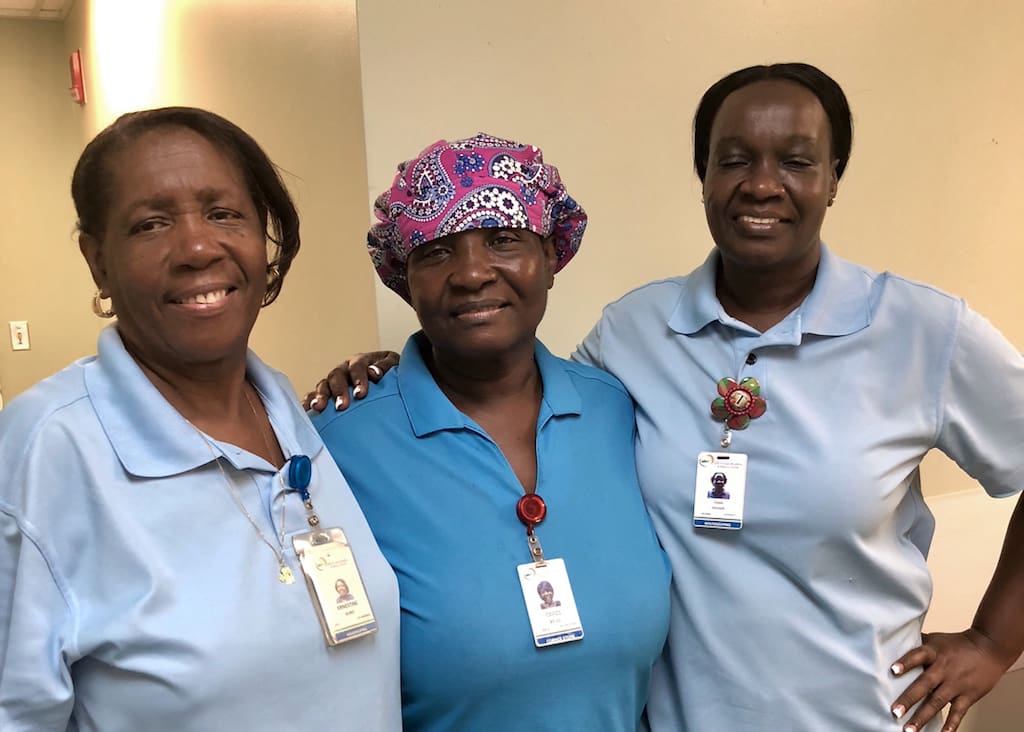 When Juan F. Luis Hospital's lowest-earning employees attended their monthly meeting Wednesday morning, they had no idea that they were each going to receive a $900 check, provided by a donation channeled through the Community Foundation of the Virgin Islands.
"I just found out this morning at the meeting we had at work," said Tilda Rougier, part of JFL's housekeeping staff for three and a half years. "We didn't expect it. We were excited, we were happy and we appreciate it."
The checks were part of a $200,000 donation from the Greater New York Hospital Association, which has been working with CFVI and Juan Luis Hospital management since February to get the checks to some 202 current and former employees.
"I would put it where I need it the most, with some bills," said Carol Felix, also part of the hospital's housekeeping team for more than five years. "If I can be of help to someone, I most definitely will."
Rougier said she has not yet decided how to spend the unexpected funds.
"I'm going to think about it because it came as a surprise to us, so I'm going to think carefully about how I'm spending it," she said. "I might buy somebody a plate of food."
The Greater New York Hospital Association had only two stipulations when it came to the grant recipients, according to Pamela Everett, human resources director at the hospital. The employees should be earning between $20,000 and $30,000 a year, and they should have been instrumental during the recovery process in the immediate aftermath of Hurricane Maria, specifically from September through the beginning of October 2017.
"The purpose of this grant that we received from the Greater New York Hospital Association is to provide direct assistant to the most financially vulnerable employees," said CFVI President Dee Baecher-Brown, who could not attend the announcement but sent a video message so she could take part in the occasion.
"From CFVI and the Greater New York Hospital Association, I would just like to say that the entire staff is appreciative of the hard work that you have done in helping the territory recover, and then helping the people of the Virgin Islands during these very difficult months," said Baecher-Brown, addressing the grant recipients.
JFL Chief Executive Officer Wanda Ruben said she saw her employees in action during Hurricane Maria, when they rolled up their pants and relentlessly swept the flooded rooms and hallways.
"To see their smiling faces today, I was able to bring to them something different and not any negativity that's out there or any challenge with revenues or things like that, that I could give them good news," shared Ruben.
Most of the recipients belong to the hospital's housekeeping, maintenance and dietary teams, as well as support staff, including certified medical assistants, according to Everett.
Ruben said she was touched by the fact that an off-territory organization recognized the challenges facing the St. Croix hospital, especially those faced by its less recognized employees.
"When you talk about a hospital, you remember more nurses and physicians and we don't remember the most important people," said Ruben. "Throughout my career as CEO, I always say that housekeeping and maintenance are the most essential employees in the hospital because they are the ones that actually make sure those rooms are ready."
Everett agreed, saying the donation came at a very good time for the employees who put patient care first during the storms.
"There were a lot of people who made sacrifices, leaving their own families to come in and take care of our patients, and we're grateful for that," Everett said.
Of the 202 employees eligible for the donation, fewer than 20 are no longer employed by JFL, either affected by the mass layoff in November or voluntarily separated from the hospital. Juan Luis Hospital has already begun making calls in an effort to track down these employees, according to Everett, to ensure they receive their checks.