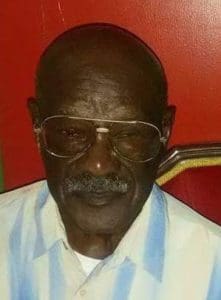 Charles Claxton Berkel died on July 31.
He was preceded in death by his son, Carlos.
He is survived by his daughters: Debra Berkel and Ingrid Dambruck; sons: Louis, Chester, Robert, Herman and Keith Berkel; sister, Wilhelmina "Ruby" Hooi; brothers-in-law: Rodrigue Lake and Felix Lake; sisters-in-law: Lenora Lake and Susanne Joseph; grandchildren: John Bell and Carlos Berkel, Chester, Charles and Juleena Berkel, Patricio, Jessica and Akeem Berkel, Philomena and Angelica Berkel, and Ronald Berkel; and great-grandchildren: Marcella, Marcus, Michael and Micah, Samantha and Rashad, Juan Yan, Elise and Chris.
He is also survived by great-great-grandchild, Kris Dionicia Vallejo; daughters-in-law: Alice, Beverly and Jacqueline Berkel; godchild, Joan Berkel; and nieces and nephews: Lynette "Rony" Dambruck, Petra Juliana-Dambruck, Stanley Dambruck, Marcia Dambruck, Glenda Dambruck, Jeritsa Alexander-Dambruck, Sallie Hooker-Dambruck, Johanna Dambruck, Monice Frans-Dambruck, Regilda Dambruck, Michael Dambruck, Sharine Djaoen-Dambruck, Jasmine Legrand-Dambruck and Lilette Freedom and families.
Other survivors include special cousins: L. Gibbs, Ishmael Berkel and Fernando "Andy" Cornet; close friends: Lenora Busny-Henson and Doreen Chesterfield, Louise Hanson; many other relatives including nieces, nephews, great-nieces, great nephews, etc.; caretakers: Dr. Gardner, Dr. Lake and their staff); as well as other relatives and friends too numerous to mention on St. Croix, St. Thomas, St. Maarten, Aruba, Curacao, in the Netherlands and in the U.S.A.
Charles Berkel is related to the following families: Berkel, Lake, Bell Aarndel, Arrindell, Brookson, Bute, Codrington, Congre, Connor, Cornet, Dambruck, Elsco, Flanders, Freedom, Hickinson, Hooi, Jack, Schmidt, Murray and Van Putten.
A viewing will take place at 10 a.m. followed by a funeral service at 11 a.m., Tuesday, Aug. 14, at Peter's Rest Seventh-day Adventist Church, Peter's Rest, St. Croix. Interment will be at Kingshill Cemetery.