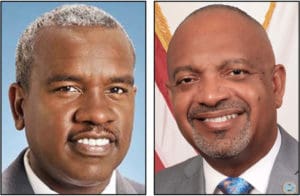 After two days of counting absentee, walk-in and provisional ballots, the V.I. Board of Elections released an unofficial count of updated results Tuesday, with no changes to the leaders in either of the district Senate races or the gubernatorial race from Saturday's Democratic primary.
According to board officials, counting will continue Wednesday. Primary election results will be certified on Aug. 18, with the final count for mail-in absentees expected a few days before on Aug. 14.
"We have about 70 provisional ballots to count tomorrow," Elections Board Chairman Arturo Watlington Jr. said Tuesday night. Since only one provisional ballot was cast on St. Croix – and already counted – the lion's share of the absentee ballots will be counted on St. Thomas-St. John.
Watlington added that the board also expects 50 to 60 more mail-in absentee ballots between now and Aug. 14. While the board doesn't anticipate any additional changes in election winners, requests for a recount have been submitted by former St. John Senator-At-Large Brian Smith and Sen. Neville James, according to election officials.
With the count announced Tuesday factored in, results are as follows:
Nomination for Governor, Lieutenant Governor
Albert Bryan and Tregenza Roach: 3,212
Allison "Allie" Petrus and Sammuel Sanes: 2,730
Angel Dawson, Jr. and Marise James: 2,197
Nominations for St. Thomas-St. John Senator-At-Large
Steven Payne, Sr.: 3,369
Stacie B. January: 2,001
Brian A. Smith: 1,296
Nominations for Senate, St. Thomas-St. John
Donna Frett-Gregory: 2,850
Marvin Blyden: 2,402
Athneil "Bobby" Thomas: 2,163
Myron D. Jackson: 2,078
Stedmann Hodge, Jr.: 1,986
Carla Joseph: 1,715
Jean A. Forde: 1,598
Kent Bernier, Sr.: 1,532
Nominations for Senate, St. Croix:
Alicia Barnes: 2,645
Allison DeGazon: 2,322
Kurt Vialet: 1,839
Novelle Francis, Sr.: 1,836
Javan James: 1,638
Kenneth "Kenny" Gittens: 1,557
Oakland Benta: 1,465
Nevilles James: 1,453
Questions or concerns can be phoned into Elections System offices on St. Croix at 340-773-1021 or on St. Thomas at 340-774-3107.