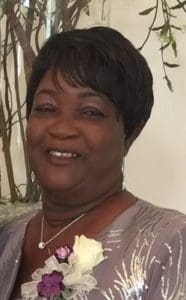 Jennifer DeGazon of Estate Strawberry died on July 27. She was 66 years old.
She is survived by her spouse, Leo DeGazon Sr.; daughters: Joanne Alfred, Leslie-Ann Powers, Marcia Baptiste, Allison DeGazon and Leona DeGazon; son, Leo DeGazon Jr.; granddaughters: Kayla Baptiste, Ashley Baptiste, Kyle Baptiste, Lauryn Stallworth, Zaylia Authers, Le'Nique DeGazon, Destinee DeGazon and Kaeden DeGazon; grandsons: Shawn Davis, Naeem Nicholas, Jeremy Gauntlett, Chaz Stallworth and Zayvion Authers; and brothers: Evans Alfred, Earl Richards and Michael Alfred; sister, Gemma Alfred.
She is also survived by aunts: Patricia Richards-Goring and Barbara Richards; uncles: Gift Richards and Henry Sealey; cousins: Ingrid Richard, Brenda Richards, Kervin Richards, Anthony Richards, Wayne Richards, Ann Marie Richards, Gale Johnson, Janelle Ferrette, Lorain Nicholas, Lloyd Richards, Leona Goring, Alana Eddy, Amanda Diggins, Frankie Moreno, Phillip Vesprey, Michelle Richards Jobity, Gianna Richards, Rondo Richards, Keino Richards and Malusha Richards Stanley; and nieces: Ray Yuri Williams, Ebony Alfred, Reina Alfred, Jana Alfred, Nakia Taylor, Tenika Alfred, Cherise Sam and Andrea DeGazon.
Other survivors include nephews: Anthony Short, Trishnell Short, Kelvin Alfred, Keron Richards John, Keon John, Marlon Sam, Mervin Constantine, Marcus Sydney and Dwayne Sydney; daughter-in-law: Kenika DeGazon; sons-in-law: Joe Baptiste, Vincent Powers, Gary Arthurs, Michael Stallworth and Steve Davis; sisters-in-law: Cheryl Sam, Paula Cumbermack and Michelle DeGazon; brothers-in-law: David DeGazon, Sheldon DeGazon, Michael Cumbermack and Victor Rojas; close friends: Doris Williams and Judith Nelson; as well as other relatives and friends too numerous to mention.
The viewing will begin at 9 a.m. and the funeral service at 10 a.m. on Friday, Aug. 10, at St. Ann's Catholic Church. Interment will follow at Kingshill Cemetery.