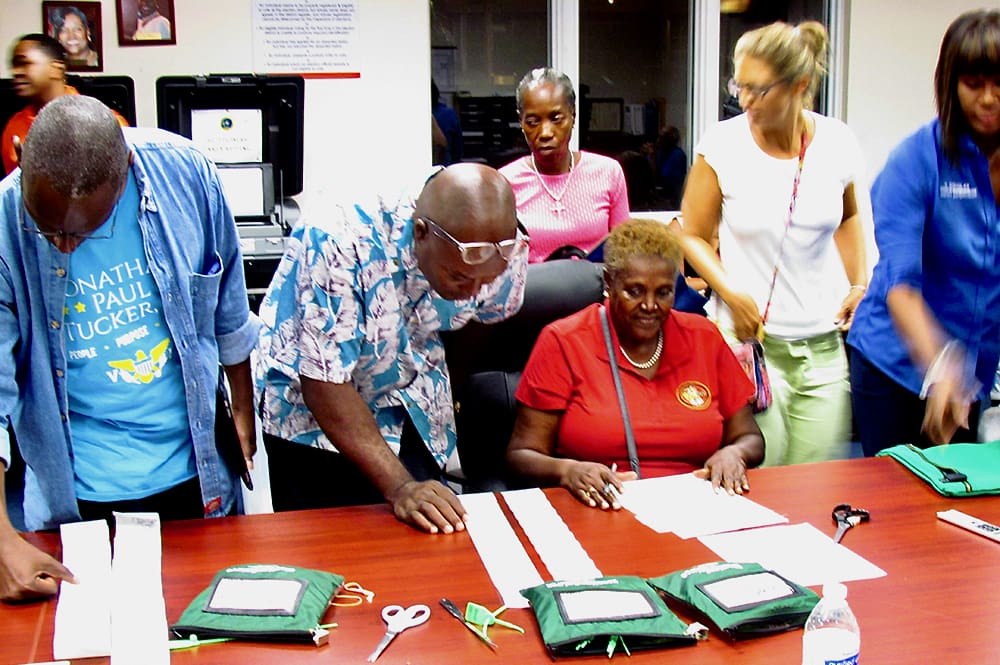 The team of Albert Bryan and Sen. Tregenza Roach took a decisive victory in Saturday's primary in a three-way battle to be the Democratic gubernatorial candidates going into the November General Election.
Unofficial tallies released by the Elections Office shortly after 9 p.m. Saturday, with 26 of the 30 precincts counted, showed Bryan-Roach with 39.29 percent of the vote, or 3,093. In second place was the team of Allie Petrus and Sen. Sammuel Sanes, with 2,624 or 33.33 percent of the vote. Angel Dawson and running mate Marise James had 2,122 votes, or 26.96 percent.
Results are incomplete and unofficial, awaiting the final four precincts, absentee and provisional ballots. Absentee ballots are scheduled to be counted Monday and Tuesday and provisional ballots Wednesday. Final certification of results is scheduled for Aug. 17.
Elections Supervisor Caroline Fawkes said turnout was low, a total of approximately 9,000 (including early voters,) about 28 percent of some 32,000 registered Democrats. Lisa Harris Moorhead, Elections board member, expressed disappointment at the low numbers.
Both women said the process went smoothly, with few hitches. One problem was a fire at a polling place near the University of the Virgin Islands St. Thomas campus which caused a temporary, 45-minute shut down of that precinct.
While the current margins in the gubernatorial race make it highly unlikely that the rankings will change when the rest of the votes are counted, the Senate races in both the St. Croix and the St. Thomas-St. John districts are close calls for the last of the seven available seats.
The big winners in the Legislature race on St. Croix were not incumbents. Alicia Barnes topped the chart with 2,579 votes and Allison DeGazon had 2,282 votes.
In the St. Thomas-St. John district, Donna Frett Gregory racked up 2,704 votes. Marvin A. Blyden, an incumbent, was in second place with 2,289.
Only a handful of incumbents made the list. See below for the provisional vote counts.
An elated Bryan told the Source Saturday night that he felt "fantastic!" adding, "It was a lot of work to get to this point, and there's a lot more work to do."
Founder and president of the Aabra Group and co-founder and managing partner of Master Strategies USVI, Bryan is probably best known in the territory for the eight years he spent as commissioner of Labor and chairman of the Economic Development Authority in former Gov. John deJongh's administration.
The team was expected to do well on Bryan's home island of St. Croix, but he said he was a little surprised that they did so well on St. Thomas. He credited his supporters for hard work and his running mate, "who is beloved in St. Thomas."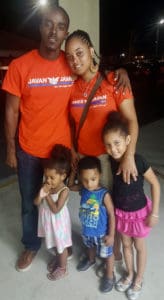 Roach is a three-term senator, an attorney who has worked in private practice and as legal counsel to the commissioner of Education and as executive director of the Board of Education as well as chairman of the V.I. Humanities Council.
The team will face a bevy of contenders running as independents in the General Election: Entrepreneur and economist Warren Mosler and Ray Fonseca; Janette Millin Young and Edgar Bengoa; Kenneth E. Mapp and Osbert Potter; Adlah "Foncie" Donastorg and Alicia "Chucky" Hansen; Molito A. Smith Jr. and Hubert Frederick; and Soraya Diase Coffelt and Dwight Nicholson.
Bryan took aim at the presumed front-runner, sitting Gov. Mapp, saying, "To be realistic, it's hard to unseat an incumbent and hard to unseat a seasoned politician but not hard to unseat the untruth." The people of the Virgin Islands "are not in the mood to be fooled twice," he said.
Meanwhile, Mapp issued a brief statement Saturday night congratulating "all the winners" in the primary and expressing appreciation for the poll workers and those who exercised their right to vote.
The Democrats are promising a united front for the General Election. Sanes said Saturday night that although he was "disappointed" in the primary outcome, he and Petrus will fully support the Bryan-Roach ticket.
"I believe this is the time for all three candidates to come together as one and really show the people of the Virgin Islands that the Democratic Party is all about serving them," Sanes said.
Bryan said he has had similar assurances from Dawson and from his running mate, James.
In the Senate races, newcomers, women and young candidates fared well.
"I didn't make any unrealistic promises," said St. Croix frontrunner Barnes. "I knew I wanted to give the voters of St. Croix a campaign worthy of their votes. I am prepared to serve. My message was received. I will remain focused. I am not taking anything for granted. Right now I am feeling gratitude."
The St. Thomas top vote-getter, Frett Gregory, said she will work with the governor, whoever is elected. The top issue, she said is the solvency of the Government Employees Retirement System.
Newcomer Javan James placed a comfortable fifth in his first political outing. He credited a mixture of "old school" campaigning and new technology, especially the use of social media, for his showing, adding that he "just kept pushing" during the campaign.
"I want to see more millennials involved in the (election) process" and more involved in holding office, James said.
For the at-large senate seat, Steven D. Payne Sr. is far ahead, with 50.62 percent and 3,265 votes. Stacie B. January is a distant second at 29 percent and 1,923 votes – too far back to overcome Payne's lead with the outstanding votes. Coming in third is Brian Smith, the incumbent, with 19 percent.
For the seven St. Thomas/St. John and seven St. Croix senate seats, the top seven Democratic Party vote-winners in each district will be on the general elections ballot, running against those who ran as independents or with other parties. As of Saturday night, the results stood at:
1: Donna Frett Gregory, 2,704 votes and 12.57 percent;
2: Marvin A. Blyden, 2,289 votes and 10.64 percent;
3: Athneil "Bobby" Thomas, with 2,075 votes and 9.65 percent;
4: Myron D. Jackson. with 1,972 votes and 9.17 percent;
5: Stedmann Hodge Jr. with 1,883 votes and 8.76 percent;
6: Carla Joseph with 1,644 votes and 7.64 percent;
7: Jean A. Forde with 1,512 votes and 7.03 percent.
Standing at No. 8, Kent Bernier, Sr., is only 53 votes behind Forde, a margin small enough that the outcome could conceivably change as the remaining votes are tallied.
On St. Croix:
1: Alicia Barnes with 2,579 votes and 12.51 percent;
2: Allison DeGazon with 2,282 votes and 11.07 percent;
3: Kurt Vialet with 1,787 votes and 8.67 percent;
4: Novelle E Francis, Jr. with 1,785 votes and 8.66 percent;
5: Javan James with 1,609 votes and 7.81 percent;
6: Kenneth "Kenny" Gittens with 1,521 votes and 7.38 percent;
7: Oakland Benta with 1,428 votes and 6.93 percent.
Standing at No 8, longtime incumbent Neville James received 1,410 votes, a mere 18 votes behind Benta, leaving this outcome the least certain of the primary.
Democratic Party nominations to run for two St. Croix spots on Board of Education:
1: Terrence T. Joseph with 1,144 votes and 26.34 percent;
2: Winona A. Hendricks with 987 votes and 22.72 percent.
Shawna Richards, in third place with 970 votes, is only 17 votes behind Hendricks, so there is a chance the outcome may changes.
Nine candidates stood for 16 at-large spots on the Democratic Party Territorial Committee; four ran for eight spots on the Territorial Committee for St. Croix District and three for eight St. Thomas spots, so all won.
The new/reelected at-large members are:
– Dwayne Benjamin;
– Riise E. S. Richards;
– Marilyn Stapleton;
– Horace A. Callwood;
– Florine Audain Hassell;
– Lauretta Petersen;
– Shelley Thomas;
– Urdley Smith
– and Rudolph Anthony Greene.
New/reelected St. Croix Territorial Committee members:
– Donna M. Christensen;
– Sonia Boyce;
– Cecil R. Benjamin;
– Peter A. Abrahams.
New/reelected St. Thomas/St. John Territorial Committee members:
– Riise E. S. Richards;
– Clement Magras;
– Roger Minkoff.
Full results can be viewed at the V.I. Election System website: www.vivote.gov.
Source reporters Melody Rames, Gerard Sperry and Elisa McKay contributed to this report.
Editor's Note: This story initially neglected to mention Warren Mosler and Ray Fonseca. We regret the error.