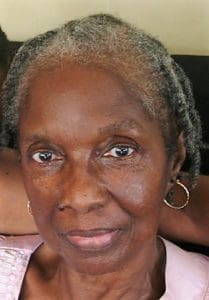 Ethany L. Samuel died on July 27. She was 83 years old.
She is survived by her children: Darwin Anduze Sr., Michelle Musah, Aubrey "Vascas" Macedon, Bernard "Ibo" Christian Jr., Iris Christian and Monique Daniel; grandchildren: Alan Carrington, Kareem Francis, Ethany Latisha Dick, Saeed Musah, Lashanda Jean-Charles, Jahshanda Samuel, T'Shanny Macedon, Aubrey Macedon Jr., Ibresha Macedon, Jahmal Christian Allysa Brady, Destiny Daniel and Sahiera Daniel; and great-grandchildren: Khalil Francis, Asha Stewart, Amelia Rose Nelson, Azani Ayala, Prince Jean-Charles, Nyjah Musah, Sincere Macedon, Harmony James and Melody Greenidge.
She is also survived by son-in-law, Garth Daniel; daughter-in-law, Avanel Macedon; sisters: Vivien A. Charles and Gwendolyn Samuel; brother, Reginald Samuel; nieces: Gloria D. Gerard, Laverne Mike, Kathleen D. Dowling, Patricia M. Graham, Adelle Allen Marcus, Kim Bennerson, Bridgette "Buffy" Bennerson, Gwen Samuel, Kellee Serrano-Daniel, Vikki Serrano, Judee Serrano and Priscilla Heyliger; nephews: Aaron A. Allen, Butch Bennerson and David A. Edwards; and great nieces and great nephews too numerous to mention.
Other survivors include extended family: the Raymon Brady family, Loreline Edney-Knight and family, Justina "Red" Rawlins and family, Roy, Rooney and Rudy Williams and family, Muriel Herbert Simmonds and family, Elba Figueroa and family, Lydia "Millie" Baptiste, Maria Schuster and family, Josephine Hector and family, Hatchett family, Cleavert family, Asta James and family, Brannigan family, Traney Prescott, Edney family, Denzil Verderber and family, Icilma Christian and family, Marie Austrie and family; cousins other relatives and friends too numerous to mention.
The viewing will be held at 9:30 a.m. followed by the funeral services at 10 a.m., Tuesday, Aug. 7, at Lord God of Sabbaoth Lutheran Church, Christiansted. Interment will be at the Kingshill Cemetery.