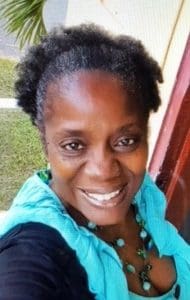 Audrey O. Browne of Anna's Hope died on July 19. She was 59 years old.
She is survived by her son, Kamal C Pereira; daughter, Dezarea Caines; sister, Patricia Browne; brothers: Elroy Heyliger Sr., Vernon Browne, Edwin Browne and Jerome Browne; sister-in-law, Channy Heyliger; aunts: Alda Francis, Doris White Daily and Cavelle Dickenson; uncles: Tryone Browne and Clarence Browne; nieces: Kimberlee Heyliger, Ahmyra Browne and Jahryn Browne; and nephews: Elroy A Heyliger Jr., Jamal Browne, Kareem Browne, Kheri Rhymer and Raheem Browne.
She is also survived by cousins: Rena Francis Hendrickson, Anyra and Amin Francis, Alphonso and Aaron Daily, Michelle Yasper, Shawn Delly Francis, Bernice Francis, the Dickenson family, Browne family, Joseph family, White family, Maynard family and Francis family; special friends: Emily Hansen, Annette Henry, Malissa Sylvester, Norman Edwards, Eleanor Parris, Shermaine Samuel, Vivian James, Ericka and Ena Hansen, and Akil Johnson; as well as other family and close friends too numerous to mention.
The viewing will take place at 9 a.m. and the funeral service at 10 a.m., Monday, Aug. 6, at Faith Moravian Church in Barren Spot. Interment will be held at Moravian Cemetery in Christiansted.
The family is asking that mourners wear blue, purple, black and/or white.