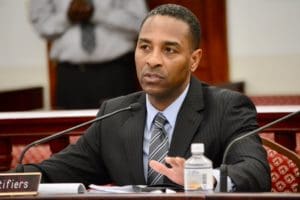 Attorney General Claude Earl Walker traveled to St. John Thursday morning to meet with the management of American Insurance Group, Affordable Housing (AIG), owners of Bellevue Village, an apartment complex on St. John.
AG Walker's meeting with Thomas Musante, AIG president, comes more than a month after AG Walker strongly urged AIG to "take immediate action to rehabilitate its property."
In his June 23 letter, which he wrote after residents complained of having to live in units severely damaged in last September's hurricanes, Walker directed AIG to "immediately take action to rehabilitate these units to meet standards of habitability."
At Walker's request, Musante flew in from Los Angeles and the two men, along with AIG contractors and several Bellevue residents, including Kenesha Small, president of the tenant association, toured the property to see firsthand the condition of the units.
"We discussed the rehabilitation plan and it is on track, as they have hired a construction firm from New York with boots on the ground," Walker said. "It was a very good meeting. We were able to meet with a number of the tenants and the contractors and I'm very convinced that this work will be done in a relatively short time. It must be several months before it's totally done. From what I can see, the work has started and is on its way."
Musante said he appreciated AG Walker's taking the time to come out and see the property, and explained why it took AIG so long to begin the renovations.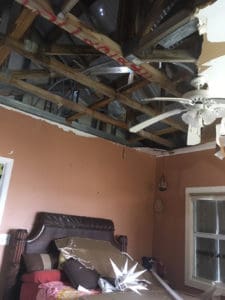 "I think there was a lot of logistical challenges on the island after the hurricanes," Musante said. "After we got our initial assessment, we tried to locate contractors on the island, and unfortunately, we weren't able to locate any. So, we managed to contact some folk stateside whom we had relationships with to find contractors with significant resources to mobilize here on the island to bring materials and labor and get the work done. I understand the frustrations, but all of that takes time. The folk on the ground here have been working really hard."
According to David Gembala, the general contractor, work to refurbish the property should be completed within six to eight months. AIG property management firm has granted the tenants rent abatement until January.
Small, speaking on behalf of her fellow residents, was pleased with the work being done in and around their homes.
"After the storm, the neighborhood was a mess – there were roofs … in multiple areas on the property, there were trees down and there were materials that came from all over the place," Small said. "Once the cleanup started, the property itself began to look better because there was not so much damage to the units on the outside. Now that the work is beginning, we're not seeing homes that are missing ceilings and mold everywhere … Our concern was just the timeframe because we're in August and anything can happen."
Meanwhile, Walker used the occasion to discuss with Musante the idea of a homeownership program for the tenants, which was included in the original plans for Bellevue Village.
"We had a very lively exchange of views on having the tenants become homeowners, as the tenants contend that Bellveue was designed to be a homeowners' conversion program, and that is correct," Walker said. "I remember some years ago that Sen. Celestino White had pushed for this to happen and I spoke to Clifford Graham who was the head of HFA at the time and he also agrees. We ended our meeting with AIG in agreement on this matter and we are committed to establishing a viable plan, which will include HFA to start the process of turning those units over to the tenants after 2020. This would result in an opportunity for the Bellevue tenants in the tight St. John housing market becoming homeowners overnight."
About 90 percent of Bellevue Village's 36 buildings with 72 units sustained damaged from the hurricanes. The apartment complex was constructed in 2004.