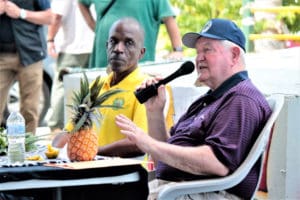 U.S. Secretary of Agriculture George Perdue spoke Wednesday to a crowd of roughly 60 people on St. Thomas, most of them farmers from all over the territory sharing the unique challenges of farming in the Virgin Islands, from crippling cost of supplies to the extreme terrain to devastation from the 2017 hurricanes.
"There's nothing like coming and seeing it for yourself to have an appreciation," said Perdue at the town hall meeting in Estate Bordeaux Farmers' Marketplace.
"You can tell us, you can write us, you can communicate all you want but as you said, there's nothing like having boots on the ground to see and to visit with the people to understand where the needs are, how we can modify and fit in the Department of Agriculture for the benefit of the people and the farmers and the growers, as well as the customers here," Perdue said.
One of the major problems V.I. farmers face, Perdue learned, was the higher cost of importing farming supplies. Some USDA programs operate on a per-item reimbursement basis, but local farmers end up incurring costs that are greater than what USDA allows due to the added costs of shipping to the islands, he said.
Farmers also lamented the soaring cost of irrigation, something that V.I. Agriculture Commissioner Carlos Robles said could see relief in the near future. According to Robles, the VIDA is working on building a 100,000-gallon cistern in Bordeaux. Perdue visited the site for the new water cistern, said Robles, which is currently in the Department of Public Works to be sent out for contractor bids and is slated for construction by the end of the year.
The Agriculture Department is also working on a 40,000-gallon cistern in Dorothea and recently received from USDA the plans for building a cistern in Coral Bay.
"Yes, we have our challenges with the budget, but I'm going to look at what we have, if I don't do anything else, to ensure that we have water collection facilities in key areas around our farming communities," Robles said.
St. Croix farmer Kirk Benoit asked for upfront cost relief from the USDA's Environmental Quality Incentives Program, or EQIP. The program, which helps farmers face their own unique set of challenges through conservation, reimburses farmers for implementing some conservation practices from an allowable list of about 200 – from crop rotation to aquaculture ponds. Benoit asked if the USDA could provide 25 percent of the upfront costs.
"Many times farmers have been awarded, they've been approved for the program," said Benoit. "Unfortunately, for some of the famers, the availability of funds are not there in a sufficient time period for them to complete the project … if they can get at least 25 percent in the startup, which I think would make a tremendous difference in their completion of that project."
Perdue responded that there is currently no legal way around the reimbursement process but it may be something that needs to be amended in light of the Virgin Islands' unique needs.
Nevon "Ras Imani" De Castro, a St. Thomas farmer and vice-president of We Grow Food, Inc., said the territory's farmers need access to farming machinery, from track hoes to backhoes to trucks, a need exacerbated by the recent storms.
"Since the hurricane, we had to bring our own trucks to get the mulch to the farmers. We need our own machinery," said De Castro, adding that some of the local Agriculture Department's farming machinery are not operational.
Providing free equipment may prove difficult, according to Perdue.
"Usually that's done from loans and if producers qualify for that, but it also might be something that we can work through the local commissioner and the local government to help them procure some items that could be rented out for smaller farmers to utilize," he said.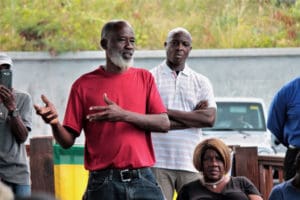 St. Croix farmer Dale Brown of Sejah Farms impressed the need for the Virgin Islands to have its own dedicated USDA resource office that would eliminate the need to go through the Puerto Rico office, adding that some USDA programs are not applicable to the special circumstances facing V.I. farmers. Perdue, however, said he did not want to raise farmers' hopes and not follow through.
"Obviously, we gotta to do a better job with some communication with the commissioner's office for getting information here to farmers that are unaware of some of the programs but to have a dedicated person here for the USDA probably is unlikely," Perdue said.
St. Thomas farmer Eustace James said he has submitted applications for USDA programs but never heard back from Agriculture officials on their status, something that also concerned Sen. Myron Jackson (D-STT) who attended the town hall.
"[Perdue's] response was that federal government bureaucracy takes a long time, but it's too long," said Jackson.
Farmer Henry Thomas was more blunt with his request, handing Perdue's staff a document recommending solutions.
"We just need some good solid funds to get us back on our feet," he said. "A budget to pick this industry back up so we don't get caught like this, so we don't just be running around with a little program here, a little program there, but to really put a good foundation under our feet to get this industry moving again."
Perdue emphasized that the problem may not be a lack of programs, but a lack of information. One of the recent mandates that came out of Congress, for example, was billions of dollars in funding made available to disaster-stricken farmers under the Wildlife and Hurricane Indemnity Program, or WHIP, a direct product of the 2017 hurricanes and wildfires on the mainland. The applications are currently ongoing, and Robles said that community meetings are in the works to inform farmers of the available funding.
"Those are not reimbursement programs," stressed Perdue. "I wanna make sure that the producers on the island here know that they can contact the USDA Farm Service Agency and apply for hurricane indemnity, whether they may have damaged crops or livestock killed."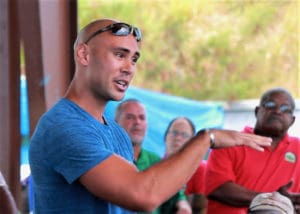 Young St. John farmer Hugo Roller of Coral Bay Organic Gardens, St. John, shared the flooding that plagues the neighborhood surrounding his Coral Bay farm during heavy rains, a problem exacerbated by the hilly terrain and lack of proper infrastructure to stem the flooding. Perdue invited Roller to speak with his staff on possible construction work that may be referred to the Army Corps of Engineers of the Federal Emergency Management Agency.
Reactions were mixed about Perdue's visit, with some farmers unable to relay their concerns due to Perdue's tight schedule, but Robles feels that the territory made progress in relaying the "breadth and depth of agriculture" in the Virgin Islands.
"This isn't something he's just doing for show," Robles said of Perdue's visit. "I was with the Southern Commissioners for Agriculture two weeks ago and he's visited at least 40 states."
"He now sees and knows that the Virgin Islands is going to have to be looked at from a different lens. From my interactions with him, he is beginning to see and understand that the territories need special attention," Robles said.