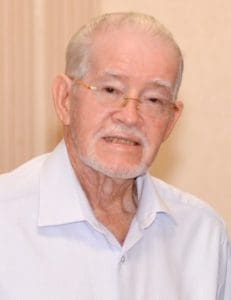 Luis Angel Alicea Roldan, also known as "Alicea" or "Wampa," from Gurabo, Puerto Rico, made his home in Frangi Pani, St. Croix. He died on July 15 in Miami, Fla., and was 82 years old.
He is survived by his wife of 60 years, Adalgisa Figueroa-Alicea; daughter: Maribel Alicea-Hernandez; sons: Luis A. Alicea Jr. and Benjamin M. Alicea; grandchildren: Luis A. Alicea III, Luisa A. Alicea, Jaime M. Alicea, Jada P. Alicea, Sioned S. Hernandez, Saul Hernandez, Jr. and Michael B. Alicea; son-in-law, Saul Hernandez Sr.; daughters-in-law: Diane Melendez-Alicea and Joanne Alicea; sister, Maria M. Alicea-Diaz; and brothers: Saul Alicea, Antonio "Junior" Alicea and Juanito Alicea.
He is also survived by adopted children: Marcos Chico Sr., Mirvia Roa, Ana Soto-Browne, Angie Soto and Grisele Soto-Mitchell; nieces and nephews too numerous to mention but recognized with love; special friends: Mr. and Mrs. Hansen, Bevon and Naomi Goodwin and family, the Armapavie Board, the VI/PR Friendship Committee, Dr. Rafael Garcia, Roberto and Sally Camacho, Monsita and Zumba Girls; as well as other relatives and friends too numerous to mention.
The viewing will take place at 10 a.m. followed by a funeral service at 11 a.m., Saturday, Aug. 4, at Zion Pentecostal Church in Estate Castle Coakley. Interment will be at Kingshill Cemetery.