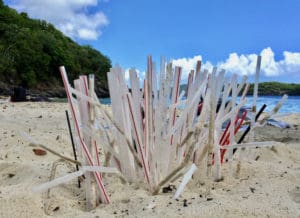 Environmental advocate Kitty Edwards, who is also education and outreach coordinator at the Department of Planning and Natural Resources, could barely contain her excitement about the Aug. 1 launch of V.I. Clean Coasts, a territory-wide eco-certification program to encourage businesses to adopt green practices.
"This is for restaurants, grocery stores, offices, any businesses at all," said Edwards. "We really hope this will be a way to celebrate what businesses are already doing, and then from that, we will be able to help businesses grow."
Edwards, who works mainly in DPNR's Coastal Zone Management division, said businesses that get certified as V.I. Clean Coasts participants can get help from the agency in choosing the next step in their journey toward going green through input from customers and the community.
Although DPNR's CZM division is sponsoring the program, the Virgin Islands Conservation Society will be in charge of the certifications. VICS has been in operation for roughly 50 years in the territory, according to Edwards, and will work with businesses on ways to make their businesses more environmentally friendly. The only requirement to qualify as a member, said Edwards, is for businesses to eliminate the use of expanded polystyrene, or foam plastic.
"That's our number-one effort to start this program, which is a big one, I know," said Edwards, acknowledging the widespread use of foam-plastic implements and the potential for business owners to balk at halting their use altogether.
DPNR is starting out the first year with a focus on eliminating single-use plastics, a cause near and dear to Edwards, who keeps a personalized water bottle on her at all times and encourages others to do the same. Businesses who join the cause and qualify for V.I. Clean Coasts can see their brands displayed on a website that VICS will build specifically for the Clean Coasts program.
"As a consumer, if this is something that interests you, you will be able to check that website and say, 'Oh, this business is doing this and I didn't know that,'" Edwards explained. "Or maybe there's a business that composts all of their food scraps, so it'll be a fun way to learn more about the businesses and hopefully to help people who really care about this decide where to go."
The step toward environmentally friendly business practices does not just earn businesses a certification and eco-friendly endorsement, but potential funding in the form of small grants.
"One thing I'm really excited about, 'cause I'm not excited about everything, is CZM and DPNR will be offering grants to businesses," said Edwards. "Once you qualify and are a member of V.I. Clean Coasts, and you identify what your next project can be, I will be accepting applications probably in the beginning of October … and helping businesses to take those next steps."
The "projects" can be small, manageable objectives. Restaurant owners, for example, who want to eliminate single-use plates, cups or utensils but are in need of a reliable dishwasher can apply for a grant that would pay for a brand-new unit.
"We will be doing this throughout the entire territory, so every application is not guaranteed," said Edwards, but she hopes that the program grows and attracts more than the $10,000 annual funding it currently has.
"Hopefully, that will be a really good opportunity to help businesses to take those next steps," said Edwards.
Although the focus would initially be the elimination of single-use plastics, Edwards said DPNR wants to help businesses develop green practices according to their needs. If a business, for instance, wants to reduce its water usage or eliminate the use of certain chemicals in its cleaning products, the agency can help them find ways to cut back.
In the future, Edwards sees the program expanding beyond single-use plastics, potentially tackling such issues as composting, or grease being dumped into kitchen sinks and eventually clogging up sewage pipes, something that the V.I. Waste Management Authority is spending money and manpower to clear up, according to Edwards.
"Whether you're a restaurant or an office or any business, we do not want to exclude anybody. We even have charter companies, boat companies, who are interested," Edwards said, encouraging all types of businesses to submit their names to V.I. Clean Coasts.
Businesses can get involved online at the DNR website. Once a business registers by filling out the form, it will be contacted by a VICS representatives with information on how to move forward.