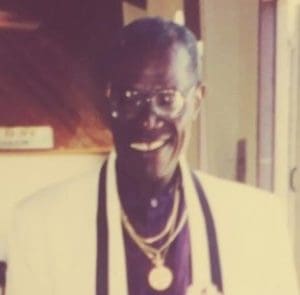 Zandie Evanson, also known as "Bro Z," of Joseph E. Terrace died on July 19. He was 86 years old.
He is survived by his wife, Christinita Evanson; daughters: Judith Evanson, Donna Gaskin, Islyn Benjamin and K'Nyah Evanson; sons: Rudolph Evanson, Walter Evanson, Chesney Evanson, Winston Evanson, and Ronald Henry; grandchildren: Junela, Reneal, Chelsey, Naarian Evanson, Troy Evanson, Kadijah Gaskin, Kadeem Gaskin, Shantel Evanson, Sonia Hackett, David Bernard, Pricilla Bernard, Jamal Bernard and Anthony Bernard; and great-grandchildren: Renealia Evanson, Legend Evanson, Shaquan Adams and Tristan Mangual.
He is also survived by a sister, Beatrice Evanson; brother, Denfield Evanson; daughters-in-law: Patsy Evanson, Daynia Evanson and Tina Evanson; son-in-law, Karl Gaskin; cousins and other relatives: Agatha "Pepper" Phillips, Rose Williams, the pastors and members of Altona Baptist Church; as well as other relatives and friends too numerous to mention.
The viewing will begin at 9 a.m. followed by a funeral service at 10 a.m., Saturday, Aug. 4, at Altona Baptist Church. Interment will be at Kingshill Cemetery.