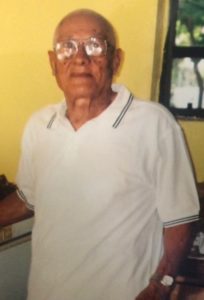 Rosendo "Papi" Rivera Gomez, age 99, died on Thursday, July 19, while surrounded by family at his home in Sion Farm, St. Croix.
He was born on Aug. 30,1918, to Nicholas Rivera and Paula Gomez in Vieques. Rosendo moved to St. Croix at the age of 23. He held several jobs, one of which was at the Gallows Bay port. When settled, he sent for his five children and wife Andrea Ayala Rivera Gomez, who preceded him in death. Together they lived in Gallows Bay and made six additional children, who all became part of the affectionately known "Hillsiders."
Rosendo later transitioned to a career in agriculture [until] he retired. Throughout his agriculture career, he and his family moved to Ralph deCharbert Housing Community and later Estate Sion Farm where he lived for 30 + years until he passed.
Rosendo will be forever loved, honored and remembered for his big heart, lion-like characteristics and humor. He cracked jokes and made friends with every person that visited his house and boy-o-boy there were many from every walk of life. He made sure they were fed and if they refused to eat after several offers, he ensured that they at least left with something to drink, even an "en-sue-thee" (ensure). Rosendo looked forward to, and truly enjoyed every major holiday as well as Mother's and Father's Day because of the embrace and time spent with his children, grandchildren, great-grandchildren and other relatives and friends, but mostly to cook-up a good ole "lechón" (roasted piglet).
He is survived by his children: Eva Maria, Rosendo Jr. (Daisy), Andrea (Richard) Jensen, Louis Alfredo (Iraida), Luis Antonio "Atiba" (Linda), Maria, Medelicia "Mayjay" and Elva Rivera; grandchildren: Dee Dee and Dalia Encarnacion, Ileana and Luis Manuel Rivera, Aida Belardo, Annalisa, Robert and Richard Jensen Jr., Mirna and Glenda Felix, Lillian, Ingrid, Medelicia, Markeeta, Nico, Jose and Angel Rivera, Joycelyn and Roberto Encarnacion, Osei, Adika, Makeda, Nakiah and Aziza Rivera, Johnny, Nicholas, David, Tomas, Alberic, Glenda and Jerry Encarnacion, Kasim Rivera, Ronald and Al-Jami Thomas, Karishma David, Orlando and Rupert Rivera, Omari Horton; and adopted children: Marilyn and Jeanie Rivera, Alma Thomas and Sandra Cartier; nieces and nephews: Dionisio and Amelia Rivera, Nelida, Zoraida, Teodoro and Orlando Escobal Ayala; and many great-grandchildren, family and friends too numerous to list but not forgotten.
A viewing will be held in memory of Rosendo from 9:30-10:30 a.m. followed by a funeral service at 10:30 a.m., Wednesday, Aug. 1, at Holy Cross Catholic Church, Christiansted, St. Croix. Interment will be at Kingshill Cemetery.
The family requests that those in attendance wear festive colors.
Those who so desire may make memorial donations to James Memorial Funeral Home Inc., or for other donations, please contact Andrea Jensen at 332-1352 or Luis "Atiba" Rivera at 473-6907 for more information.