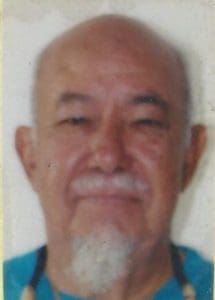 Bienvenido Brignoni, 82, affectionately known as Bien, died on July 14. He was born on March 22, 1936, in Christiansted, St. Croix, the son of Francisco Brignoni and Juana Torres.
He is survived by his wife, Victoria Brignoni; daughter, Michelle Bascombe; son-in-law, Randall Bascombe; grandchildren: Soyoni Queshie, Sahleem Bascombe, Kareme Holst, Shanique Bascombe and Korian Bascombe; great-grandchildren: Symone Smith, Naomi Johnson, Arissa Jn Marie, Victor Quashie Jr. and Eljah Quashie; great-great- grandchild, Honor Smith; sisters: Carmen Maria Pillot, Matilda Brignoni, Lydia Lockhart and Juanita Berrios; sisters-in-law: Maria Brignoni, Juanita Morales and Alicia Camacho; brother-in-law, Miguel Camacho; cousins: Eleuterio Torres, Carlos Torres, Innocencia Torres Garcia, Maria Torres Santos, Maria Brignoni and Luz Rivera Armstrong.
He is also survived by nieces and nephews: Carmen Fuentes, Jose Manuel Trinidad, Francisco Trinidad, Carmen Henry, Malvelina Monell, Carlos Marzan, Teresa Jaffett, Carmen Berrios, Edna Cotton, Amelia Rivera, Mario Daniel, Violet Hodge, Diana Perez, Aracelis Conigliaro, Santos Perez, Kelvin Berrios, Edward Berrios, Juana Brown, Suni Lin Magras and many great nieces and great nephews.
Other survivors include special family and friends: Robert Allen Henry, Dr. Olaf Hendricks, Carlos Monell, Stanley Jacobs, Lydia Monell, Carmen Romero, Delia Cabret Garcia, Juanita Pacheco Davila, Dean Hodge, Ricardo Rodriguez, Daniel Ortiz, Andre Mc. Bean, Nellie Laloma Ussery, and the Lockhart, Hendricks, Mackay, Lindquist, Monell, Saldana, Torres, Rivera, Encarnacion, Larsen and Morales families; as well as many more too numerous to mention.
A viewing will take place from 3-5 p.m., Monday, July 30, at James Memorial Funeral Chapel, La Grande Princesse. The funeral service will be held at 10 a.m., Tuesday, July 31, at Holy Cross Catholic Church, in Christiansted followed by burial at the Christiansted Cemetery.