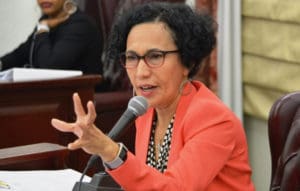 What Sen. Nereida O'Reilly (D-STT) hoped would be an uncontroversial bill turned out to be, in her words, "a grenade in the room" after testifiers came out both in strong support and opposition to her "Dig Once" bill that was eventually held in committee.
"Many states have chosen and many municipalities have chosen to enact 'dig once' legislation because it is good practice to ensure that when you are burying utility assets, you provide a conduit so that broadband assets, or fiber, can be installed," O'Reilly said.
The "Dig Once" legislation essentially seeks to minimize disruption and costs related to the laying of underground conduits and the various types of cables they house by cutting into the ground only once and allowing multiple entities, including private companies, to benefit from the resulting conduits. Since WAPA is the primary entity laying down underground conduits at this time, the bill practically mandates WAPA, which the bill also seeks to classify as "a government agency" through a change in definition, to install spare conduits that will be shared with telecommunications providers.
WAPA Director Lawrence Kupfer said WAPA currently has plans to install conduits on all three islands as part of "hardening" its transmission and distribution system. The utility will be installing additional conduits that will subsequently be made available to other entities, according to Kupfer, a practice done by the utility "to some extent."
The bill would also allow private telecommunication companies to install their own conduit or gain access to the government agency's conduit for a fee that not to exceed a cost-based rate.
On Tuesday, the Committee on Government Affairs, Veterans, Energy and Environmental Protection invited various officials from both public and private sector to testify on the proposed legislation. One major concern was the risk of WAPA forfeiting its funding from the Federal Emergency Management Agency if private, for-profit entities are allowed use of the conduits, something that lawmakers and testifiers had varying opinions on.
While Kupfer supports the bill's goals, he said it has "critical consequences" for the utility.
"Our underground projects are largely funded by federal dollars," Kupfer said. "As you know federal dollars are designated for specific purposes. The federal government will not approve projects that are specified for use by a privately named entity," said Kupfer.
"Also, it must be understood that once a particular federally funded project design is approve, the authority cannot allow a private entity to enter and install their own conduits even if the cost is borne by the private entity," added Kupfer.
H. Mark McGibbon, chief executive officer and president of the Virgin Islands Next generation Network, agreed.
"The commercial community is not authorized to use a conduit that will be trenched, constructed and installed by FEMA, now or in the future," said McGibbon, adding that only the president of the United States has the power to grant to local governments and their agencies resources needed to for critical repairs or mitigations.
Viya, formerly Innovative, is one of the companies that would benefit if O'Reilly's becomes law. Viya CEO Alvaro Pilar lauded the bill as "an important opportunity for the USVI to implement a frame of infrastructure development in the 21st century."
"Based on what the officials from FEMA have told us, there's no certain requirement that they cannot do that," said Pilar about the risk of losing federal funding if WAPA is found in violation of its funding restrictions.
"We have no interest to violate or put at risk any funding, federal funding for the USVI. It doesn't matter what department it is. At the end of the day, it's for the benefit of Virgin Islanders," Pilar added.
Niels Vanterpool, director of transmission and distribution at WAPA, said WAPA's nine-conduit plan, which includes the extra conduits for third-party communication providers, was presented to FEMA for review.
"It passed the FEMA legal review," said Vanterpool, seemingly contradicting Kupfer. "They understood the approach that were trying to go through because our philosophy, if we're going to be undergrounding our lines, then that leaves third-party communications aboveground, and why not just have everyone below ground."
Turning to the Legislature's legal counsel, Alaine Lockhart, yielded little in clarifying the situation. Lockhart, who said she was not an expert on FEMA rules, said while there is no specific language in the U.S. Code that disallows private companies to benefit directly from federally funded projects, there is language that says non-profits can.
McGibbon emerged with the strongest objections to the bill he says creates "multiple and serious problems" for viNGN. A public corporation wholly owned by the Public Finance Authority, viNGN sells bandwidth at wholesale prices to some 14 internet service providers, or ISPs, in the territory. The ISPs, in turn, sell the bandwidth to their customers. According to McGibbon, on top of the risk of losing federal dollars, allowing private internet service providers to lay their own cables in the same conduits would drive viNGN out of business.
"We cannot make money. We make money by selling bandwidth to ISPs," said McGibbon, likening the consequences of the bill to going back to the times when one company had "monopoly" over providing internet service in the territory.
"If they're right there beside us, competing with us, they don't need to buy the bandwidth from us anymore. We're done," said McGibbon.
In addition, McGibbon said every time conduits are opened for maintenance by any entity that uses them, all other companies would have to be on site to make sure their cables are not damaged, causing wasted manpower hours, he said.
Then there are the potential security issues. According to McGibbon, giving private entities access to federally funded conduits risks exposure of information of varying levels of confidentiality from agencies such as the Federal Bureau of Investigation, the U.S. Coast Guard, and the Department of Homeland Security.
When asked by Sen. Sammuel Sanes (D-STX) if such information can indeed be compromised should the bill pass, McGibbon answered in the affirmative, citing his 24 years of experience as a U.S. Navy cryptologist.
Public Services Commission Director Donald Cole said he supports the goals of the legislation, but with some reservation.
"Our greatest concern is that the proposed legislation is simply a statement of intent – there is no enforcement agency and no enforcement provision," said Cole. "If this intention is not followed through, there are no immediate consequences."
Voting to hold the bill in committee to allow time for more vetting were Sanes; Sen. Marvin Blyden (D-STT); Sen. Jean Forde (D-STT); Sen. Alicia "Chucky" Hansen (IND); Sen. Tregenza Roach (IND); Sen. Janette Millin Young (D-STT). O'Reilly voted no.