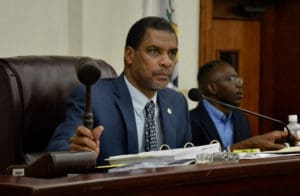 The Government of the Virgin Islands has had a terrible reputation for not paying its bills on time.
Departments have blamed the Department of Property and Procurement processes for the delays. The Department of Property and Procurement has usually blamed the departments for not going through the process correctly. That has not changed.
However, Lloyd Bough, Jr., commissioner of the Department of Property and Procurement, told the Senate Committee on Finance Monday that a new policy might go a ways in improving the process.
The policy mandates that a Property and Procurement employee immediately notify a department when a request for payment is denied and needs to be resubmitted. Requests for payment are often denied for simple reasons such as an incorrectly written justification letter or not supplying the required number of valid quotes. Employees of government agencies has waited weeks or even months thinking a request for payment had been approved and just needs to have a check cut, and then learns the request was found inadequate and needed to be resubmitted.
Bough told the Senators that a policy is now in place that mandates, when a request is denied, the department making the request will be notified immediately.
The new policy received no comments from Senators as Bough made his case for a budget of $15.8 million for fiscal year 2019.
Sen. Nereida Rivera-O'Reilly wanted to know why she saw so many government vehicles on the road during weekends with families in them and looking like they were going shopping.
"These people are professionals; don't they own their own cars," she said.
Bough responded there was a policy concerning the abuse of use of government vehicles. He continued that the policy had not been enforced strictly in the aftermath of the hurricanes, but he would be stepping up enforcement again.
Sen. Kurt Vialet also had vehicles on his mind. He said a vehicle sold at a government auction on St. Thomas was purchased, worked on by a resident and then leased back to the government on St. Croix. Bough said he did not know anything about the incident. He said the government motor pool had two mechanics and they only do general maintenance. He said the government has 600 vehicles on St. Thomas and 631 on St. Croix.
The budget request from the general fund is $10.8 million, which is $7.6 million more than last year. The big increase for the department was a $3 million dollar increase in insurance costs for vehicles and buildings. Bough said the increase, about 40 per cent, was because the government had made so many insurance claims after the hurricanes.
He added the department did not have much time to negotiate the insurance costs because it needed to be in place before another hurricane season.
Property and Procurement has 61 employees. It oversees acquisition of all goods and services, manages the government's central stores and warehouse, processes all contracts for the executive branch, acquires and manages the executive branch's fleet of vehicles, leases office space for departments, and manages the government's print shop.
"We remain focused on our goal to streamline the contracting process, reduce and maintain the government's fleet of vehicles, reduce our reliance on the General Fund by increasing revenues through aggressive collections and new leases, and refurbishing of government buildings," he said.