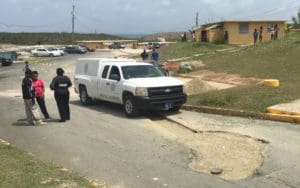 One man was killed and another injured in a shooting Friday afternoon in the Bethlehem Village Housing Community in Estate Profit.
According to the V.I. Police Department, the slain man was identified by next of kin as 28-year-old Akeem Herbert. The identity of the injured person was not released, in accordance with department policy.
At 12:59 p.m. Friday, the 911 dispatcher received a call reporting reported a discharging of shots in Bethlehem Village Housing Community in Estate Profit. At the scene, officers found an unresponsive male victim with multiple gunshot wounds to the body. Medical attendants were unable to locate any vital signs on the victim, who was identified as Herbert.
Officers also discovered another male victim who was shot in the lower body and was transported by ambulance to the Juan F. Luis Hospital. The victim was immediately taken into surgery.
Police urged anyone with information on the crime to contact the Criminal Investigation Bureau at 340-778-2211, the 911 call center, or the anonymous tip service, Crime Stoppers USVI, at 1-800-222-8477.