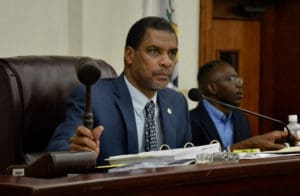 A decrease in gross receipts tax collected from gas stations in the months after Hurricanes Irma and Maria contradicts an increase shown in the same tax collected from fuel dealers, and Sen. Kurt Vialet said Tuesday that may be due to gas stations under-reporting sales.
Gross receipts tax collected from gas stations was 10.7 percent lower between September 2017 and March 2018 than it was during the same period a year earlier. Meanwhile gross receipts taxes collected from fuel dealers not only did not decrease, but rose 12.3 percent when measuring the same months.
"I think the information clearly shows there are certain sectors of this economy that are not fairly reporting their gross receipts tax," said Vialet, chairman of the Senate Finance Committee.
At a budget hearing Tuesday, the Bureau of Economic Research submitted post-hurricane gross receipts information for four types of businesses in the territory. The businesses included jewelry stores, grocery stores, gas stations and fuel dealers.
Some of the data was unsurprising. For instance, jewelry store gross receipts since the hurricanes have been nearly half what they were the year prior. Other data, according to the report, raises additional questions.
"Every month from the September 2017 through March 2018 period, gasoline sales were down when compared to the corresponding period the year before. This may warrant further review since the purchase of gasoline included not only vehicles but also gas generators and fuel generated hurricane recovery equipment," the report reads.
Taxable gross receipts sales collected by fuel dealers from September through November of 2017, when many residents were reliant on generators, amounted to a nearly 60 percent increase from a year earlier. The increase in consumer demand is not reflected in gross receipts reported by gas stations.
Gross receipts collected from supermarkets and other grocery stores also declined post-hurricanes, by 17.5 percent.
The BER report speculates that several reasons might account for the drop, including residents buying cheaper non-perishable goods after the storms due to a lack of refrigeration, and a shrunken population due to evacuations and the collapse of tourism.
Vialet applauded the BER for compiling and reporting on the data and requested the bureau put together something similar covering the territory's car rentals and all entities that sell construction material.
"We want to keep a really close watch on our gross receipts, and whether or not with all the economic activity taking place that we are collecting the fair amount," he said.