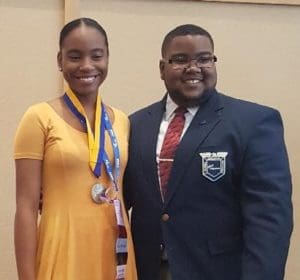 Una Alexander, a seventh grader at John H. Woodson Junior High School, received national recognition at the Future Business Leaders of America (FBLA) Middle Level Awards of Excellence Program held July 1 in Baltimore, earning first place in the organization's Elevator Speech event.
Alexander was one of more than 9,600 of America's best and brightest junior and senior high school students who traveled to Maryland to the FBLA and FBLA National Leadership Conference held June 28–July 1. Participants from across the U.S. and abroad sought to enhance their business skills, expand their networks and participate in more than 70 business and business-related competitive events with the goal of being named among the top 10 in the nation and an opportunity to win more than $175,000 in cash awards.
In the Elevator Speech competition, participants must present to a state senator about how FBLA Middle Level helps students develop leadership skills and why it is important to have this organization in middle schools. The competitor must be prepared to leave at least one visual — a flyer or a brochure about FBLA ML and a business card — with the judges. The speech could be no longer than 30 seconds in length. The judges role-played the part of the senator. Judges asked up to two questions after the competitor has completed his or her speech.
This year was especially rewarding for VI FBLA, as it was the first time in the history of the conference that Middle Level Competitive Events were offered, and the Virgin Islands brought home a first-place finisher.
"Enthusiasm is power. We grow when we are uncomfortable," said presenter Ryan Underwood.
Alexander's award was part of a comprehensive national competitive events program sponsored by FBLA-PBL that recognizes and rewards excellence in a broad range of business and career-related areas. For many students, the competitive events are the capstone activity of their academic careers.
In addition to competitions, students immersed themselves in interactive workshops, visited an information-packed exhibit hall, and heard from motivational speakers on a broad range of business topics.
About FBLA-PBL Inc. Future Business Leaders of America-Phi Beta Lambda Inc., the premier student business organization, is a nonprofit 501(c)(3) education association with a quarter million members and advisers in over 6,500 active middle school, high school and college chapters worldwide.
Its mission is to bring business and education together in a positive working relationship through innovative leadership and career development programs. For more information, visit www.fbla-pbl.org.