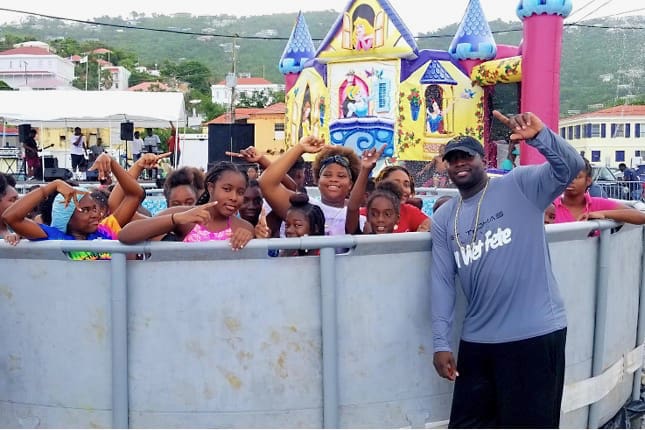 The Fort Christian parking lot was awash with kids having fun Saturday, and those taking the splash seemed delighted that no expense had been spared to make the second annual Wet Fete Kids Edition a success.
"I honestly like the fact that they went all out for the kids, that they didn't try to be cheap with the wet fete in any way," said Sherkquan Henry, who was there with her little sister.
The event is a fundraiser for the BDJ Music Scholarship Foundation. BDJ is a St. Thomas soca artist also known as Big Daddy Jeff.
From noon to 5:30 pm. Saturday the Fort Christian parking lot featured an over-sized pool, kiddie pools, bouncing castles and a water slide.
While admission was free, sales of food and beverages went to the BDJ Music Scholarship Foundation, which provides financial assistance to graduating high school seniors studying music and/or the performing arts as they attend a college or university of their choice. The fund also supports training, practice and academic tutoring for children ages 12 to 17.
The event featured entertainment by BDJ and DJ Kuntry.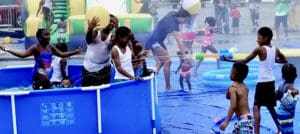 "This is our second annual kids Wet Fete. We came up with the idea because we do the V.I. Wet Fete, so the second year when we were doing it we were like you know what we need to do something for the kids," BDJ said. The third annual Wet Fete is an adult event that will take place Saturday, July 21, and feature a host of bands from 8 p.m. to 2 a.m.
"The BDJ Music Scholarship Foundation tries to give scholarships to graduating students in the music arts," he said. This year we had two graduating students. We've only been together a year so we did get the opportunity in that year to raise $2,000 and we gave $1,000 to one scholar at Eudora Kean and one at Charlotte Amalie. This year we were sponsored by Alpha Mortgage Advisors so I want to say shout out to Erik Ackerman and the whole crew. We just want to be hosting community events like this to raise money so we can push more students to college."
The day was overcast, but organizers still deemed the event a success, as more than 100 children took part. BDJ said the rain was not a hindrance to the success of the Wet Fete.
"A Wet Fete is a Wet Fete, so when it rains that only brings a better vibe. I know a lot of parents couldn't bring their children because they had to work but its greatly attended right now, the kids are having a good time, so we can't ask for anything more," he said.
"BDJ Music and BDJ Music Scholarship Foundation are not going anywhere. I've been doing music a while and I'm just really proud to be giving back," he said.