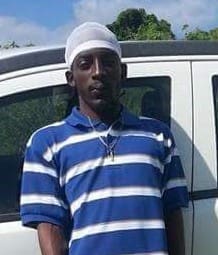 Tahmal M. Brinkley died on June 30.
He survived by his mother, Stephanie Brinkley; father, Thomas Brinkley; brothers: Andreas Miller and Thaheem Brinkley; sisters: Tinisha and Tashimas Brinkley, and Latoya Greenaway; aunts: Kimberly Petersen, Tracey Angela Hardee and Beverly Ann Banister; uncles: Troy and Delroy Millington Sr., Ray Sr., Brian, Ronald, Eric, Arthur Sr., Roger, Bret, Shelton, Jeffery and Curt Petersen; and great aunts: Sharon Christian, Delores David, Ada Acoy, Sarah James, Joycelyn Francis and Kathleen Lima.
He is also survived by nieces: Anira and Any'sha Miller, Ayvah Petersen, Tiana Denton and Taliyah Brinkley; nephews: Azarie Miller, Reyquan Lewis, Adonte Heskey, De'Sahni Archibald and Bernadis Cruel III; and cousins: Delroy Jr. and Delisha Millington, Michelle Greene, Raenelle, Rascine and Rasheed Thomas, Sherifa, Kealia, Ray Jr. and Tay, Amandi, Jayden, Erica, Naniesa, Devin, Jeremiah and Alana Petersen, and Khalisha Smith.
Other survivors include extended family: Monica Brown and family, Estelita Ferdinand and family, Branch family, Fawkes family, Denise Thomas and family, Sheridan Lloyd and family, Karen Blyden and family, Nilda Walcott, C&J Auto Care, CHS Class of 1979, Lorianna Brodhurst, Petersen, Barnes and Powell; as well as other family and friends too numerous to mention. As per the family's request, those in attendance are asked to wear shades of blue.
A first viewing will be held from 3-5 p.m., Tuesday, July 17, at Divine Funeral Services Chapel, 129 Peter's Rest, Christiansted, St. Croix.
A second viewing will take place at 10 a.m. followed by a funeral service at 10:30 a.m., Wednesday, July 18, at Holy Cross Catholic Church, Christiansted, St. Croix. Interment will be at Kingshill Cemetery.