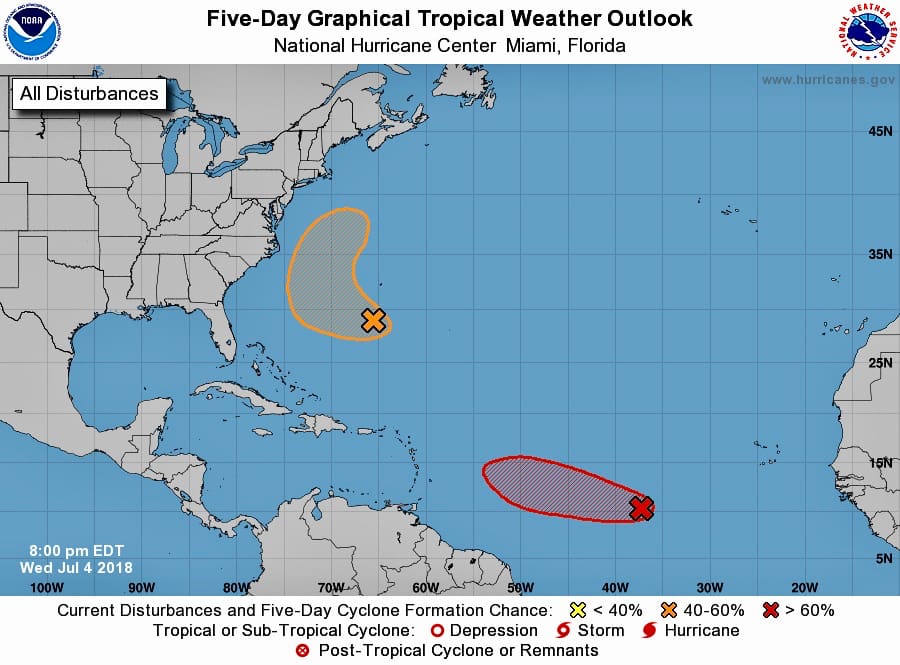 A low-pressure system and tropical wave in the central Atlantic shows a 70 percent change of developing into a tropical depression in the next five days, according to the National Hurricane Center.
In a release issued at 8 p.m. Wednesday, the NHC said the system is about 1,000 miles west-southwest of the Cabo Verde Islands, roughly halfway between Africa and the Caribbean.
The system continues to become better organized, the NHC said, predicting a tropical depression is likely to form during the next day or two while the system moves westward to west-northwestward at 15 to 20 mph over the tropical Atlantic Ocean.
However, upper-level winds are expected to become less conducive for development by the weekend, when the system approaches the Lesser Antilles.
The weakening tropical disturbance might still bring shower and thundershower activity and locally gusty winds to the central and northern Lesser Antilles from Sunday into Monday. Anything more than that is unlikely, as of Wednesday night's NHC report.
A second system, a weak trough of low pressure, is forming to the north of the U.S. Virgin Islands, a few hundred miles southwest of Bermuda, according to the NHC.. Environmental conditions appear conducive for some development of this system, and a tropical depression could form before the end of the week, but the system is expected to move west-northwestward and then northward between Bermuda and the east coast of the United States, away from the territory. The disturbance is then forecast to interact with a frontal system on Sunday, which would limit any additional development, according to the NHC.