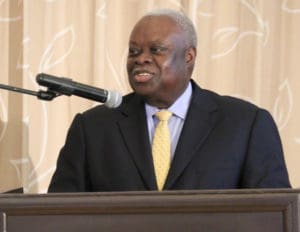 Gov. Kenneth Mapp's announcement Monday that a new St. Thomas hotel development was tied to the St. Croix refinery restarting had some residents scratching their heads. How do those two things connect?
Listening to the governor's remarks it was easy to miss that connection, but a release to the press later that day outlined the details.
The governor had mentioned upon the closing of the transaction for the refinery, ArcLight Capital will make a $70 million payment to the V.I. government. This payment includes $30 million for the purchase of approximately 225 acres of land and 122 homes. This property was acquired by the government as part of the settlement with previous refinery operators.
The closing payment also includes a $40 million prepayment of taxes by the refinery entity created by ArcLight Capital to operate it.
Mapp is proposing to the Legislature that as much as $10 million of the payment be used as an equity investment for a 110-room hotel to be located at Yacht Haven Grande on St. Thomas. Mapp said this hotel will be the first hotel built in the territory in 38 years and it would be flagged by a major four-star brand.
"In return for its investment, the government will receive a security interest in the hotel and land underneath it, interest payments for 10 years, five percent of the hotel's cash flow and a seven percent carrying interest in the net proceeds if the hotel is ever sold," the Government House news release said.
Tom Mukamal, chief executive officer of Island Global Yachting, was present when Mapp announced the agreement at Government House Monday.
"The financing coupled with $30 million in private funds will see this project move ahead," Mukamal said.
He said plans for the hotel had been in the works for more than 10 years, but because of recent economic conditions in the Caribbean private money could not be found to move it forward. He added the project was "shovel ready" as soon as financing was in place.
Mapp said the hotel could be open by fall of 2019.
The governor has called for a special session of the Legislature on July 25 to consider ratification of the agreement.
The news release also said, "According to industry experts and consultants Gaffney, Cline & Associates, the government expects to receive more than $600 million over the first 10 years of the restart of the refining operations. This income is in addition to the $11.5 million currently flowing to the government from the oil storage terminal each year."