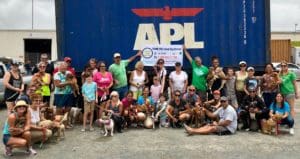 St. Croix Animal Welfare Center (SCAWC) teamed up with Island Dog Rescue, a Virginia-based animal rescue group, on Friday, June 29, to fly 75 homeless dogs and cats from St. Croix to the states for adoption, ensuring their lives will be saved.
SCAWC is the only open-door animal rescue facility on St. Croix. Since January of this year, it has received more than 1,500 abandoned or unwanted animals into their care. The center's facility was severely damaged by Hurricane Maria, and it currently operates from two temporary locations in La Grande Princesse, providing services to hundreds of animals locally each month.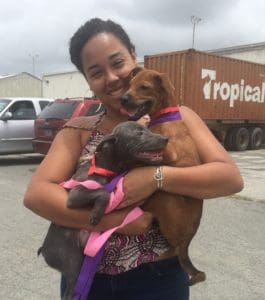 Sadly, more animals come in to the shelter every day than there are available homes for on St. Croix; therefore, the center partners with stateside shelters and rescue groups to find homes for animals that may not otherwise have a chance.
On Friday afternoon, 60 dogs and 15 cats began their journey to happy lives and new families thanks to the generosity of Island Dog Rescue, which funded the air transport of St. Croix's animals. Island Dog Rescue is a Virginia-based organization that focuses on providing air transport from the Caribbean to rescue groups on the mainland.
The journey started at Pet Place, SCAWC's adoption center, where foster families, volunteers and staff gathered animals, water, cages and other supplies before heading to the airport where an even larger team of volunteers gathered to appropriately label and load all the animals for transport. The animals stopped in Puerto Rico, where they were joined by a number of animals also being transferred to safety from that island, before being flown to Miami where they were met by SCAWC's stateside partners and a huge team of volunteers to help with animal care, many from Barry University.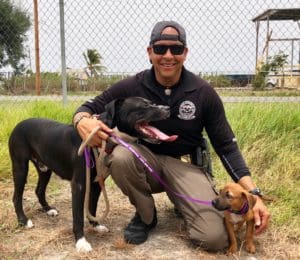 Partnering on this mission were six stateside rescue groups that accepted the Crucian pets with open arms and will arrange for their adoptions to loving families: Charlottesville Albemarle SPCA (N.C.), Bully Baby Rescue (N.Y.), Gloucester-Matthews Humane Society (Va.), R.E.A.L. Cruzan Cats (Mass.), Animal Services of Osceola County (Fla.), and Friends of Strays in St. Petersburg (Fla.). Most of these organizations already have waiting lists for their adoptions.
"On St. Croix, the effort has been tremendous. Dozens of foster friends have been taking care of pets that are ready to travel and will be bringing them to the airport today for their flight," said Laura Ballard, president of SCAWC.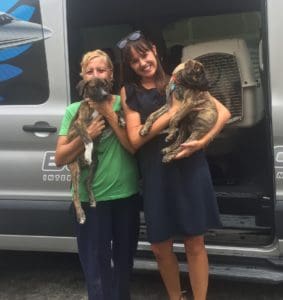 "The staff and volunteers of the St. Croix Animal Welfare Center have been working for days getting all of the necessary customs paperwork ready, getting health certificates prepared, setting up the travel crates and coordinating the efforts of all the stateside partner shelters. Kudos to Alison Sobeck, pet transfer coordinator for the St. Croix Animal Welfare Center, who has done an amazing job coordinating this effort. 75 lives saved!" Ballard said.
The St. Croix Animal Welfare Center has been serving St. Croix since 1973. Its mission is to provide and promote the humane treatment of animals on St. Croix; they accomplish their mission through education, community services including a low-cost community health clinic, animal protection efforts, and adoption and pet transfer efforts like this one.
Donations can be made and more information is available at stcroixawc.org and on the SCAWC Facebook page.