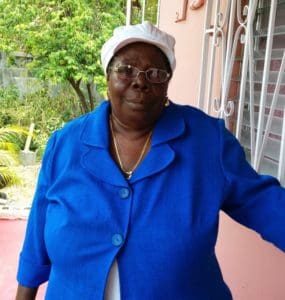 Sheila I. Nicholas died on June 18.
She was preceded in death by her mother, Margaret Lewis Payne; and father, Oliver Samuel Nicholas; Charles Richards, Joseph Rose and Lauckland Nicholas; sister, Geraldine Nicholas; and nephews: Nigel Daley and Edwin Nicholas.
She is survived by her daughter, Joycelyn Nicholas (N.Y.); son, Dave Nicholas (Calif.); daughter-in-law, Wanda I. Nicholas; grandchildren: Shanice Nicholas (JPN) and Samantha Bennett (N.Y.); brothers: Eric Rose(Ill.) and Oliver Nicholas; and sisters-in-law: Clare Nicholas (St. Thomas) and Charlene Rose (Ill.); sisters: Louisa Williams, Yvonne Jenkins (Mass.), Eldica Rose (N.Y.) and Perdita Rose.
She is also survived by cousins: Diana Richards (St. Croix), Oswald Jackson (St. Croix), Agusta Huggins (St. Thomas), Desmond Jackson (St. Thomas); and nieces: Faye Williams, Judith and Ivy Jenkins (Mass.), Wendy Elvins and Jessica Pompei (N.Y.), Donnamay Graham, Rosslyn Graham, Gertrude Robert and Alicia Robert (ANU), Tavia Rose-Vives (Ind.), Terrez Rose-Dulaney(Ind.), Tiffany Rose-Onyekuru (Md.), Zenith Nicholas- Pierre(Md.), Anika Nicholas-Joe (Md.) and Nalda Nicholas (ANU).
More survivors include nephews: Gino Williams, Winston Graham, Enrico Williams (Penn.), Oliver Rose (N.Y.), Leon Rose and Vincent Rose (Mass.) Fitzroy Graham (Fla.), Gary Robert and Cardean Spencer (ANU), Sylvester Richards (St. Thomas), Stanmore Rose (Texas), Treven Rose (Ind.), Mitchell Nicholas (Md.), Jermaine Williams (Md.), Thomas Rose, Sylvester Rose, Alphonso Rose (Ind.).
Other survivors include great nieces: Tamia Williams, Jahzara Jenkins (Mass.), Kendra and Kasia Rose (Mass.), Aja Rose (N.Y.), Dainyjah Pierre (Md.), Kiara and Nayah Williams (Penn.), Chidera Onyekuru (Md.), Kennedy Rose (Texas) and Saykara Nicholas (ll.); and great nephews: Nathaniel Williams, Jamaul Shipley (Mass.), Drew Sanders and Jameer Hartley (N.Y.), Talib Pierre (Md.), Tyriek Williams (Penn.), Joseph Rose, Shabbazz Rose, Malik Rose, Tyquan Rose, Elijah Rose and Ezekiel Rose (N.Y.), Chiwueze Onyekuru, Chinedu Onyekuru, Chijioke Onyekuru (Md.), Idris Williams (D.C.), Rudolph Nicholas (Ill.).
Survivors who are special friends: Paul, Helen, Liz Rose, Edris, St. Ann's Catholic Church family, Rosanna Shoy, Rosie, Vitus and Yvette Peters, Pastor Ammaran Williams and family, staff at Juan F. Luis Hospital, Jason Snow and Cardiovascular Associates of the Virgin Islands PLLC; as well as other relatives and friends too numerous to mention.
The viewing will begin at 9 a.m. followed by a funeral service at 10 a.m., Friday, July 6, at St. Ann's Catholic Church, Barren Spot. Interment will be at Kingshill Cemetery.