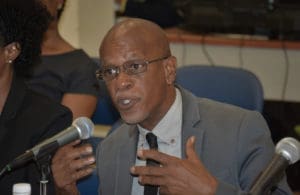 The Department of Licensing and Consumer Affairs is facing additional challenges after Hurricanes Irma and Maria, including the renewal of business licenses and monitoring price gouging after the storms, DLCA Commissioner Devin Carrington told the Senate Finance Committee Tuesday.
The DLCA and Frederiksted Health Care both made their budget presentations before the panel.
According to Carrington's testimony, in order to determine if price gouging occurs, merchants were required to submit price lists to the agency before the hurricanes. But not all businesses complied. Carrington said the agency issued some 65 notices of violation on St. Thomas and St. John, and another 40 on St. Croix to businesses in violation, including supermarkets, pharmacies and gas stations. These businesses incur a fine of $200 for each day they fail to submit the required price lists.
"In the absence of price-list submissions, the department has no official benchmark to determine whether price gouging has taken place or the extent to which it has taken place in the aftermath of such disasters."
Lack of staffing also meant that the agency could only target businesses that have "the most profound impact on consumers" or those selling goods and services critical to hurricane survival and recovery. The DLCA is in settlement discussions with business that increased their prices on certain goods during the emergency price freeze period without petitioning the agency for a price change.
DLCA is still in the process of determining exactly how many businesses have not renewed their business licenses after the hurricanes. The agency's compliance officers are also on the street, said Carrington, to determine which businesses have either shut down or continue to operate but failed to renew their licenses.
In response to the territory's overwhelming need for construction contractors, DLCA also partnered with other agencies in the weeks after the storm to assemble a "one-stop shop" for off-island contractors who were allowed to operate in the territory using their out-of-territory licenses. The expedited licensing process deferred local testing requirements to a "specified later date." Between September 2017 and May 2018, DLCA issued some 420 trade licenses for contractors specializing in construction, plumbing, electrical and HVAC.
"Having the pertinent departments together in one location resulted in more expeditious service to clients," said Carrington. "This arrangement should be further explored as an example of how the delivery of government services can be improved for the benefit of the public."
DLCA officials said that they have since resumed normal licensing procedures, including the required local testing. They also stressed that while local testing requirements were deferred for off-island contractors, they did not relax requirements for the appropriate national credentials.
This year, DLCA has a recommended budget of $3.47 million (a decrease of $358,000 compared to last year's budget), $3 million of which would go toward personnel and fringe benefits. In spite of the reduced funds, Carrington said they are still looking to augment the agency's staff and will hire a new employee on St. John. They have also submitted a list of critically needed positions in their weights and measurements division as well as their legal division.
Frederiksted Health Care, Inc.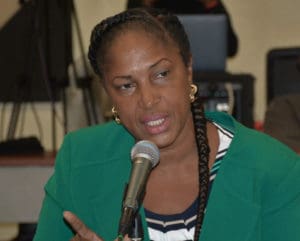 Masserae Sprauve-Webster, chief executive officer of Frederiksted Health Care, also presented her budget on Tuesday. This year, FHC is asking for $2.64 million in local-funding allotment, an increase of $632,000 compared with last year's allotment. Of that amount, $2.3 million would fund personnel and fringe benefits.
FHC is a federally-qualified health center providing affordable medical and dental services to the underserved, low-income residents of St. Croix. In 2017, they received some 30,000 visits from about 10,000 patients, and currently have 4,000 on their waiting list for dental services, the only public oral health care option on St. Croix. FHC operates five health centers serving Christiansted, Frederiksted and Kingshill residents equally.
"We believe primary care is the key to our community truly thriving," said Webster. "There is no one in our community that should go without health care due to their financial status."
Because it is a federally-qualified health center, some 55 percent of FHC's services for Medicaid-eligible patients are reimbursed by the Centers for Medicare and Medicaid Service, while the remaining 45 percent comes from the local government match. After the storms, CMS granted FHC a 100 percent reimbursement rate effective Jan. 1 until September 2019, but did not release the required guidance document until May. Claims will now be processed at 100 percent reimbursement, with Molina Clearinghouse re-submitting claims dating back to Jan. 1 on behalf of FHC.
In 2017, some 19 percent of FHC's patients, however, were uninsured. While the rest have Medicare, Medicaid or private insurance, some still cannot afford their co-pays, resulting in more than $600,000 in uncompensated care that FHC is no longer trying to pursue.
Asked if they intend to hire a collection agency to pursue those patients, Webster responded: "We do not want to do that. So many of who we serve are the underserved. We do not want to create bad credit for them and put them in a bad situation."
Lawmakers also stressed that steps must be taken to begin installing a local Medicaid fraud unit, as well as comply with other requirements that would allow entities like FHC to begin accessing an additional $35.6 million in federal funding.